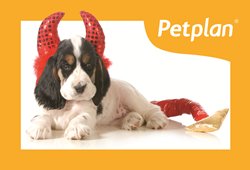 Newtown Square, PA (PRWEB) October 09, 2014
Creeping creatures aren't the only fright on Halloween night – chocolate candy can scare up terrible trouble for the furriest members of the family. Petplan pet insurance unearthed the ghastly facts and found that pets are 140% more likely to suffer chocolate toxicity and 12.9% more likely to visit the vet for vomiting during Halloween week.
"While all chocolate is toxic to pets, dark chocolates are the most dangerous," says Dr. Jules Benson, Petplan's Chief Veterinary Medical Officer. "Dark chocolate contains a higher concentration of toxins like theobromine and caffeine, which can haunt furry friends with diarrhea, vomiting and increased heart rate and blood pressure. It can even be fatal depending on the amount ingested."
Milk chocolate has a higher fat content, which Dr. Benson warns can trigger dreadful conditions like pancreatitis. Most horrifying of all? The majority of pet parents know the tricks candy treats can play on pets, yet chocolate toxicity claims continue to soar. Petplan reports that in 2013 the average reimbursement for veterinary care related to chocolate ingestion was up a fur-raising 20% – some claims even topped a monstrous $3,000!
Don't let this year's witching hour turn into a bark and stormy night; follow these Halloween health tips from Petplan:

Wicked Wrappers: Foil, cardboard and paper wrapping can cause just as much mischief as the candy inside! If a pet snacks on wrappers, they can become stuck in his guts, causing an obstruction that often requires surgery to remove. After bingeing on bonbons, be sure to toss trash in a lidded can well away from sniffing snouts.
The Great Pumpkin: While fall's most popular squash is full of fiber, jack-o-lanterns can be filled with fright. Carved pumpkins grow a mad scientist's worth of bacteria inside them, which can give pets a terrible tummy ache if eaten.1 Keep cut pumpkins completely out of reach from precious paws and consider lighting jack-o-lanterns with faux candles to banish fire hazards.
Dastardly Dress Up: This Halloween, 22 million people will dress up their pets, spending $330 million on costumes.2 How to make sure pets have a howlingly good time? Be certain pets are able to breathe and move freely in their costumes and choose an outfit that doesn't have extra pieces like legs, hats or pompoms, as dogs often mistake these choking hazards for chew toys.
End the Night Right: After you retire from trick-or-treating, be sure to keep your Halloween haul far out of paws' reach, and if you notice your pet experiencing weakness, hyperactivity, vomiting or diarrhea, call your veterinarian or one of these hotlines immediately:
Pet Poison Helpline 800.213.6680
Animal Poison Control 888.426.4435
For more information on how to have a yappy Halloween (plus how to protect pets year-round), visit http://www.GoPetplan.com.
1. Bestfriends.org
2. According to The National Retail Federation
###
ABOUT PETPLAN
Petplan is more than a pet insurance company. We're dedicated to providing pet parents with the support, resources and tools they need to keep their pets not just surviving—but thriving—into their old age. Simply put, we aim to be the kind of company that will make our pets proud. For the second consecutive year, Petplan was listed among the top 50 companies on Forbes' annual ranking of America's Most Promising Companies – a list of 100 privately held, high-growth companies with bright futures. Petplan is the only pet insurance company to have been included on Inc. Magazine's list of 500 fastest-growing, privately held companies in America.
Petplan's fully customizable cat and dog insurance policies provide comprehensive coverage for all hereditary and chronic conditions for the life of the pet as standard. Petplan policies are underwritten by AGCS Marine Insurance Company in the U.S. and by Allianz Global Risks US Insurance Company in Canada. The Allianz Group was rated A+ by A.M. Best in 2014. For more information about Petplan pet insurance, visit http://www.gopetplan.com or call 1-866-467-3875.