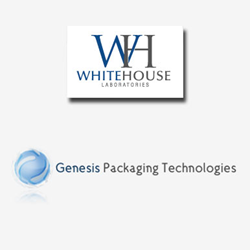 The ability to offer comprehensive container integrity testing programs that include the in-line capping and sealing, residual seal force testing and complete integrity test development and validation is what sets Whitehouse Laboratories apart
New York, NY (PRWEB) October 16, 2014
Whitehouse Laboratories is excited to announce that it has renewed its partnership with Genesis Packaging Technologies. The agreement will enable Whitehouse Laboratories to continue to offer container integrity testing services in the area of residual seal force and capping. Genesis team members will work on-site at Whitehouse Laboratories as it relates to leak testing programs that require capping optimization. Whitehouse Laboratories' clients, when needed, will also gain access to the Genesis Technical Advisor Group – a consortium of packaging experts providing training and consulting services to the industry.
As part of the formal agreement, Whitehouse Laboratories will continue to offer two key services that are critical to container closure testing, method development, and validation. Residual seal force testing is an indirect measure of the compressive force that the stopper is exerting on the land of the vial. The Genesis Residual Seal Force Tester measures residual seal forces in pharmaceutical vials sealed with stoppers or lined seals and aluminum caps. The aluminum caps can be plain aluminum caps, or aluminum caps with plastic buttons. Other cap materials and styles may be accommodated as specialty applications. In addition, Whitehouse Laboratories will also maintain a Westcapper that can be used to cap vials at a range of forces. When used in conjunction with Residual Seal force and integrity tests such as vacuum decay, laser diffraction, or helium mass spectrometry, optimal sealing parameters may be determined. Having the in-laboratory ability to mimic the actual production line enables clients to develop, optimize and validate a comprehensive vial, seal, and testing production line in a strict FDA regulated, cGMP setting.
Roger Asselta, Vice President and Senior Technical Advisor commented, "We look forward to continuing our partnership with Whitehouse Laboratories. As experts on the areas of seal testing and capping for vials and closures, we understand the importance these functions of the manufacturing process can play in meeting the strict regulatory compliance issues. Working with Whitehouse Laboratories ensures our mutual clients can have direct laboratory access to residual force testing and capper optimization programs in a quality driven laboratory setting."
"The ability to offer comprehensive container integrity testing programs that include the in-line capping and sealing, residual seal force testing, and complete integrity test development and validation is what sets Whitehouse Laboratories apart from other service providers in this area," states Mark Stier, Chief Operations Officer of Whitehouse Laboratories. "Genesis plays a key role in this process and we appreciate the support they bring, as it directly benefits the clients we serve. They are a much needed and appreciated member of our team."
Container closure integrity testing is becoming a more critical issue in the FDA regulated environment. The United States Pharmacopeia recently published new general chapter 1207 that outlines the use of new and improved technologies to insure the safety of packaged medicinal products. Having the ability to test and verify container and package integrity is an essential element in the manufacturing and production of drug products.
About Whitehouse Laboratories
The Testing Partner to Manufacturing Companies, Whitehouse Labs is an FDA regulated, DEA Licensed, ISO 17025 and ISTA certified contract service provider to the pharmaceutical, medical device, personal and consumer product industries. Whitehouse Laboratories offers analytical services for the testing of materials, finished products, container and package systems that enable our clients to meet and exceed the required quality standards established by the key regulatory agencies.
About Genesis Packaging Technologies
Genesis Packaging Technologies is a leader in the science and technology of pharmaceutical vial processing and handling, specifically sealing. Genesis offers global service and technical support to meet industry expectations and assure compliance to regulatory requirements regarding container closure integrity. Genesis also manufacturers instruments to test vial residual seal force. Genesis is the successor company to The West Company, Machinery Systems Division, which it purchased in 1996. The company has manufactured serum vial capping equipment since 1946. During this period, well over 1500 pieces of equipment have been installed worldwide in pharmaceutical, veterinary, diagnostic and biotech facilities. Genesis continues to service and maintain this equipment. All manufacturing, design, engineering, sales, and service is located in our offices in Exton, Pennsylvania USA. Value-added services such as spare parts inventory, comprehensive documentation, a complete design and engineering department, technical support staff, and qualified service technicians enhance our ability to service our worldwide customer base. All equipment engineered and manufactured by Genesis can be fully tested at our facility. A complete process water loop, compressed air chiller and full electrical capacity is available for complete line testing and equipment integration. All equipment can be supplemented with a comprehensive Validation Support Data Package.