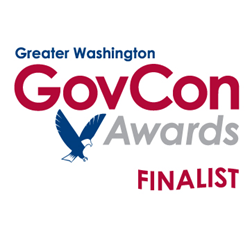 "These nominations are a testament to the hard work and accomplishments of our employees and we look forward to celebrating with them and the other nominees at the gala in November." - Mehul Sanghani
McLean, Virginia (PRWEB) October 09, 2014
Octo Consulting Group, a leading provider of original federal technology and management solutions, was selected as a finalist in two categories for the 12th Annual Greater Washington Government Contractor (GovCon) Awards, the premier awards event for the Washington area government contracting community. Octo is a finalist for both the Contractor of the Year and Executive of the Year awards. This marks the third consecutive year Octo has earned GovCon nominations. In 2013, Octo was a finalist in both the Contractor of the Year and Executive of the Year. In 2012, Octo won the Contractor of the Year award.
Known for its adaptive and rigorous approach to customizing services for the federal government, Octo received distinguished recognition from the Fairfax County Chamber of Commerce and Professional Services Council. The GovCon awards honor regional companies demonstrating outstanding leadership and transformative innovation. Award criteria include notable financial and operational accomplishments as well as exceptional employee contributions to the federal contracting industry.
"The companies and executives recognized this evening demonstrate excellence and distinction," said Jim Corcoran, President and CEO of the Fairfax County Chamber of Commerce. "This is a highly competitive process and those that emerge as finalists have a great deal to be proud of."
Octo President and CEO Mehul Sanghani described how this honor reflects Octo's commitment to its core principles: "The GovCon Awards are without question the Academy Awards and the unparalleled gold standard for our industry. We were fortunate enough to have been honored with an award in 2012, and are very proud to have been chosen as a GovCon award finalist in two categories for the second consecutive year. These nominations are a testament to the hard work and accomplishments of our employees and we look forward to celebrating with them and the other nominees at the gala in November."
About Octo Consulting Group
Founded in 2006 as a fresh alternative to the traditional consulting firm, Octo Consulting Group is an award-winning provider of technology solutions and management consulting services to the federal government. Octo empowers its consultants to deliver the results IT leaders in government and business need to improve performance and accomplish their missions. By emphasizing efficiency and agility, Octo is able to deliver intelligent solutions and results faster, with lower costs and measurable outcomes. Octo is headquartered in Tysons Corner and has additional offices in Alexandria, Virginia and Atlanta, Georgia. To learn more about Octo's solution areas and past performances with the government market, visit What We Do. Add Octo on LinkedIn and Facebook, and follow Octo on Twitter to read more about what's new at Octo Consulting Group.