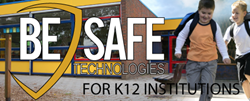 Barnstable, MA (PRWEB) October 28, 2014
BeSafe Technologies, Inc. is pleased to announce that its CEO, Tom McDonald, recently presented at Rhode Island Emergency Management Agency's (REIMA) 2014 School Safety Conference. REIMA annually hosts a summit on school safety bringing together School Superintendents, Assistant Superintendents, Principals, elected School Board members, teachers, and other educational leaders. The day long event enabled attendees to hear from national, state, and local leaders of school safety and provided guidance on implementing programs that keep students and staff safe. Mr. McDonald's presentation entitled, "Using Technology to better protect your students, staff, and facilities" highlighted the work BeSafe has done in many Rhode Island school systems as well as provided an overview of the critical role technology plays in handling emergencies and in emergency preparedness. Mr. McDonald was joined by other school safety practitioners, law enforcement professionals, and safety advocacy groups in providing attendees with exposure to state of the art technology solutions for their unique organizations.
About BeSafe Technologies, Inc.
BeSafe Technologies provides first responders with advanced information about a facility's physical layout, surroundings and access points before arriving at a location, thus enabling responders to expedite their intervention. This includes aerial imagery and digital photographs of all facades, entrances and egresses, the location and description of hazardous materials and critical utility shut-offs. This allows first responders to know the exterior surroundings of the property, access routes, and a view of all entrance and escape points, as well as asset identification, enabling pre-planning of evacuation and response. The information is distributed electronically to emergency response agencies and is accessible from most police and other emergency vehicles. BeSafe's systems are currently implemented in approximately 2,500 end user sites, including over 150 school districts and colleges across 10 states, and numerous hospitals, law enforcement agencies and municipal facilities.
For more information on BeSafe Technologies, please visit http://www.besafe.net or contact Tom McDonald at tmcdonald(at)besafe(dot)net or toll free (866) 216-5649.