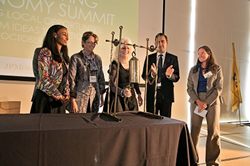 The issue at hand is not just growth for growth's sake, but equitable growth that promotes human and community well-being at its core.
Jersey City, NJ (PRWEB) October 09, 2014
Small businesses make large contributions to the economy through job creation and strengthening the local tax base, however many entrepreneurs are unaware of the resources available to ensure sustainable business growth. This is why 150 local leaders and small business owners gathered at the 2nd Annual Local Living Economy Summit yesterday, to reimagine ways to stimulate economic growth for all local businesses. Produced by Rising Tide Capital (RTC), with the support of the Local Living Economy Working Group (LLEWG), this all-day event was hosted by the Ignite Institute of Saint Peter's University at the MacMahon Student Center.
"In order to harness all of our local entrepreneurial energy we brought together all local stakeholders—public and private sector leaders, business development organizations, the social sector and big, small and micro-businesses—to promote an ecosystem that can sustain the growth of all businesses. The issue at hand is not just growth for growth's sake, but equitable growth that promotes human and community well-being at its core," said co-founder and CEO of Rising Tide Capital, Alfa Demmellash.
The event kicked off with the ringing of the Local Economy Bell by Judy Wicks, one of the co-founders of the Local Living Economy movement, Alma DeMetropolis market president, New Jersey Leadership Team at JPMorgan Chase, Mary Kate Naatus, acting director, Ignite Institute, Saint Peter's University and Jersey City Mayor Steven Fulop.
"Jersey City is home to hundreds of small businesses, which all provide a variety of services and contribute to the great diversity of our community," said Mayor Steven M. Fulop. "Rising Tide Capital offers a great resource to our small business owners and entrepreneurs looking to start a new venture. Through workshops and summits like the one today, we are able to expand upon the great work they are doing in Jersey City and beyond."
Fulop also mentioned that the city recently launched a $1.2 million advertising campaign "Make It Yours" featuring local small businesses to promote Jersey City as a destination.
Attendees participated in interactive presentations and panel discussions led by speakers including Judy Wicks, Lawrence Hibbert president and CTO of BCT Partners, and Jeff Hoffman entrepreneur and co-founder of Priceline.com and ColorJar. Hoffman pledged his commitment to Jersey City's local economy by participating as an "Entrepreneur in Residence" for the newly formed film and media cluster initiative at New Jersey City University, funded by New Jersey Economic Development Authority and organized by the Business Development Incubator at NJCU and Rising Tide Capital.
"I want to be a part of any operation where people are committed to action, and that's why I pledged my commitment today to the film and media cluster today." Hoffman said, "When you put passionate and creative people together amazing things happen at an exponential rate. Having a meeting place for film and media entrepreneurs in Jersey City to meet, exchange ideas and help each other with projects is a force multiplier."
More commitments to action and the summit recap video will be hosted on the summit website in the coming days.
The 2014 summit continued the work started at last year's event around developing entrepreneurial initiatives that create new economic opportunities for shared prosperity. LLEWG member Aleksandra Lacka, a market research and strategic insights expert, reported on her recent research on challenges faced by local entrepreneurs during the summit's Opportunity Breakfast.
Four new LLEWG members were inducted yesterday, Daryl Rand, president HarrisonRand Advertising and chairman of the board of the Hudson Chamber of Commerce, Carmen Grandulla, director of Community Development for the City of Jersey City, Rosemary McFadden, chairwoman of the Jersey City Economic Development Corporation and Tracye McDaniel, president and CEO of Choose New Jersey.
The Local Living Economy Summit will be hosted by the Ignite Institute of Saint Peter's University for the next two years. To see the digital conversations taking place during the summit see the hashtags #LLESummit and #IgnitingAction.
Rising Tide Capital (RTC) is a Jersey City-based nonprofit organization founded in 2004 by Harvard graduates Alex Forrester and Alfa Demmellash. RTC helps entrepreneurs start and grow successful businesses by providing a 12-week Community Business Academy—supplemented by year-round workshops, coaching and networking events. These programs are currently offered in Spanish and in English in four cities across Northern New Jersey: Jersey City, Newark, Union City, and Orange Township. As of January, 838 entrepreneurs have graduated from the CBA and together, they operate over 403 businesses in New Jersey. RTC's model of entrepreneurship development has received national recognition from President Obama to CNN Heroes.
To learn more, visit http://www.RisingTideCapital.org.
The Ignite Institute is a Center of Excellence at Saint Peter's University. In partnership with Rising Tide Capital, Ignite provides thought leadership, academic research, and direct educational service (including workshops, panels, and training for local entrepreneurs). The Institute contributes to policy and thought leadership by working with the Local Living Economy Working Group (LLEWG) to discuss the Jersey City Local Economy and identify opportunities for student and faculty involvement in promoting positive change. For more information, please contact Mary Kate Naatus at (201)761-6393 or mnaatus(at)saintpeters(dot)edu.