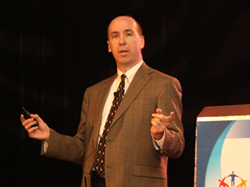 Technological capabilities are skyrocketing everywhere, and we need to change the way we think about them if we're going to jump that curve.
Los Angeles, CA (PRWEB) October 13, 2014
Robotics are changing the world at a dizzying pace and ABB/Thomas & Betts is on the cutting edge of the movement. Innovation is at the forefront of what ABB/Thomas & Betts do and many of the technologies that drive modern society were pioneered by ABB. On October 13th, ABB/Thomas & Betts is presenting a revolutionary new product launch in West Hollywood, CA., and they have selected global Futurist Jack Uldrich to deliver the keynote for the event.
In 2012 ABB merged with Thomas Betts and together they are a global leader in power and automation technologies. Their solutions improve the efficiency, productivity and quality of customers' operations while minimizing environmental impact. They are a leading supplier of industrial robots, modular manufacturing systems and service. Their strong solutions focus helps manufacturers improve productivity, product quality and worker safety. To date, ABB has installed more than 250,000 robots worldwide.
Uldrich, a best selling author, trend expert and futurist is well versed in the coming trends and he will be addressing the ABB Group in West Hollywood, CA., with his talk, "Breakthrough: Ten Technological Trends Transforming Tomorrow."
In his talk Uldrich will provide an in-depth examination of a number of trends, including wearables technologies, 3D manufacturing, mobility, advances in nanotechnology, data anlytics, the Internet of Things and robotics, and discuss how these trends are transforming the competitive landscape. In addition to discussing the technologies that will be introduced in the near future, he also poses some serious questions for his audiences: "Think about how much we already rely on machines. What would happen if those machines were no longer available, or even temporarily offline? What risk does handing a growing number of our decisions off to automation pose?"
In his book "Foresight 20/20" Uldrich puts together a plethora of future based scenarios and robotics, energy, utilities and 3D printing are just a few of his highlighted chapters. In additon to speaking to companies like Emerson (most recently at their 2014 Global Users Exchange in Orlando last week,) Eaton, PMMI, The National Association of Manufacturers, Uldrich also speaks on topics in retail, education, finance and healthcare, among others. He will be following up his talk in California at ABB/Thomas & Betts events in Houston, Atlanta, Chicago and New York City throughout the month of October.
Uldrich is a renowned global futurist, best-selling author; editor of the monthly newsletter, The Exponential Executive. Parties interested in learning more about him, his books, his daily blog or his speaking availability are encouraged to visit his website. Media wishing to know more about either the event or interviewing Jack can contact Amy Tomczyk at (651) 343.0660.