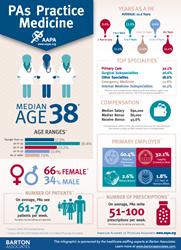 When PAs are on the healthcare team, patients know they can count on receiving high-quality care, which is particularly important as the system moves toward a fee-for-value structure.
Alexandria, VA (PRWEB) October 10, 2014
A new nationwide study confirms that patients believe PAs add value to healthcare teams and provide excellent patient service. The study, conducted by Harris Poll on behalf of AAPA, surveyed more than 1,500 U.S. adults. Among an oversample of 680 Americans who have interacted with a PA in the last year (meaning either they personally saw a PA or were present for the visit of someone they care for), the survey revealed strong support for the care PAs deliver:

91 percent agree PAs are going to be part of the solution to address the shortage of healthcare providers.
93 percent agree PAs are trusted healthcare providers.
92 percent agree having a PA at a practice makes it easier for a patient to get an appointment.
91 percent agree PAs improve health outcomes for patients.
91 percent agree PAs improve the quality of healthcare.
In an era when only 24 percent of U.S. adults say they have found a primary healthcare provider whom they like and trust, the findings show that PAs get high marks for the way they interact with patients. Ninety-three percent of those who have interacted with a PA say that PAs explain health or treatment matters in ways that are easily understandable and 91 percent agree that they or their loved one have a good relationship with the PA they see.
"The survey results prove what we have known to be true for years: PAs are an essential element in the healthcare equation and America needs PAs now more than ever," said AAPA President John McGinnity, MS, PA-C, DFAAPA. "When PAs are on the healthcare team, patients know they can count on receiving high-quality care, which is particularly important as the system moves toward a fee-for-value structure."
PAs scored highly when it came to value, with 93 percent of those who have interacted with a PA agreeing that PAs add value to healthcare teams. More than 8 in 10 (83 percent) say that PAs increase their or their loved one's satisfaction with healthcare. Similarly, 82 percent indicated that PAs have educated them about how to stay well and prevent illness.
"These results tell us that PAs are not only good for patients, but also good for business," continues McGinnity. "Patients want providers they can get to know and trust, and these results show PAs win over their patients with stellar care and excellent communication."
The online survey was conducted Sept. 15–22, 2014, among 1,544 adults age 18 and older living in the U.S., including an oversample of 680 adults who have seen a PA and/or have accompanied a loved one to see a PA in the past 12 months. For a complete methodology, including weighting variables, please contact AAPA.
More than 100,000 certified PAs practice medicine throughout the U.S. and American military bases around the world. PAs practice in all medical settings, including hospitals, clinics, or physician's offices, and they practice in every medical specialty, including primary care, emergency medicine, surgery, oncology, orthopaedics, psychiatry, radiology, pediatrics and more. The average PA will practice in two or three different specialties throughout his or her career, making the PA profession one of the most versatile in the healthcare industry today.
A typical PA will treat 3,500 patients in a year. PAs conduct physical exams, diagnose and treat illnesses, order and interpret tests, prescribe medication, and assist in surgery. A PA's role may also include education, research and administrative services.
Contact: Patrick Dunne, AAPA assistant director of communications, 571-319-4394, pdunne(at)aapa(dot)org
About AAPA
Founded in 1968, the American Academy of Physician Assistants is the national professional society for PAs. It represents a profession of more than 100,000 certified PAs across all medical and surgical specialties in all 50 states, the District of Columbia, and the U.S. territories with the exception of Puerto Rico. Since the profession's inception, PAs have also practiced within the uniformed services. AAPA advocates and educates on behalf of the profession and the patients PAs serve. It works to ensure the professional growth, personal excellence and recognition of PAs and to enhance their ability to improve the quality, accessibility and cost-effectiveness of patient-centered healthcare. Visit http://www.aapa.org and http://www.pasconnect.org to learn more.
About The Harris Poll
Over the last five decades, Harris Polls have become media staples. With comprehensive experience and precise technique in public opinion polling, along with a proven track record of uncovering consumers' motivations and behaviors, The Harris Poll has gained strong brand recognition around the world. The Harris Poll offers a diverse portfolio of proprietary client solutions to transform relevant insights into actionable foresight for a wide range of industries including healthcare, technology, public affairs, energy, telecommunications, financial services, insurance, media, retail, restaurant, and consumer packaged goods. Contact Harris for more information.