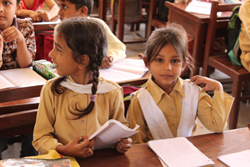 We want millions of children to benefit from the program that TCF has been working on for all these years
Washington D.C. (PRWEB) October 11, 2014
The Citizens Foundation (TCF) has passed its historic milestone of opening 1,000 schools for underprivileged children in Pakistan – and now it wants to share its recipe for success with public and private educators to help millions more children around the world.
Speaking on Wednesday, October 8, at a conference on the Pakistan education crisis co-hosted by TCF and the Woodrow Wilson Center, the organization's founder and chairman Mushtaq Chhapra said: "We want millions of children to benefit from the program that TCF has been working on for all these years.
"The milestone of 1,000 schools has been achieved and now people want to know what we are going to do next. We have always maintained that what we have learned is the wealth of our country. All that we have learned should be leveraged in Pakistan, in the region and around the world. This is the honest desire."
Founded in 1995 to focus on quality education for girls and boys in Pakistan, TCF now runs 1,000 schools in the nation's poorest urban slums and rural areas for 145,000 primary and secondary age children.
Despite TCF's success, Pakistan's public system is in crisis. With an estimated 173 million people, it is the 6th most populous country in the world, but 92 million aged over 15 can't read or write. Of all males aged 15 and above, 47% are illiterate while for females the percentage is considerably higher at 72%.
In the first of a planned series of conferences on education reform hosted by TCF - titled "Pakistan's Biggest Challenge: Turning Around a Broken Education System" -
Mr Chhapra explained: "We need to come together to find practical solutions to these problems."
TCF has already held intensive talks with education leaders in Pakistan about private/public partnerships and a pilot program involving 70 schools receiving books, curriculum agendas and teacher training from the Karachi-based non-profit that employs 7,700 teachers in an all-female faculty designed to help conservative parents feel more comfortable about sending their daughters to school.
TCF schools currently boast 48% female students. "Right from the start, the goal of TCF was to get as many girls in the schools as possible," said Danial Noorani, CEO and founder of the organization's fund-raising partner in the United States, TCF-USA.
TCF's offer to fellow educators was just one of a number of innovative ideas discussed at the daylong conference at the DC conference which was videotaped in full by the Wilson Center and posted HERE.
Dr. Irfan Muzaffar, a founding member of the Campaign for Quality Education in Pakistan, revealed shocking statistics from a soon-to-be published report that suggested that as many as 25 million children in the country are currently out of school. Of those going to class, 40% are going to private schools, compared to 10% in the United States, he said.
One answer could be for the private sector to "adopt" neglected public schools while keeping them free of charge to students, he said, adding that it was imperative to redouble the focus on improving the quality of public schools and regulating the private education marketplace.
Former Pakistan finance minister Shahid Javed Burki offered little hope for the nation's dire public education system. "The country should put its faith in the private sector – and put its faith particularly in women," he added.
Jumaina Siddiqui, a US-Pakistan Fellow with the South Asia Center at the Atlantic Council, argued that education doesn't rate as a high enough priority in Pakistan politics and that elected officials need to play a much bigger role. "The four provincial education ministers should sit down and discuss what is happening," she said. "These types of dialogue are difficult but they are necessary."
Pakistan's recent Punjab Education Reform Initiative has shown the way by achieving major milestones in the enrollment of 1.5 million more children as a result of a new roadmap implementation and in an additional 37,000 teachers showing up for work each day compared to the days before the provincial reforms, said Saad Rizvi, senior vice president at Pearsons and a member of the task force team.
The roadmap, initiated in 2011, focused on improving enrollment, attendance and learning outcomes. "The foundations are there in Punjab, but there is still a long, long way to go," he said.
Dr. Douglas Johnston, president and founder of the International Center for Religion & Diplomacy, spoke movingly about his efforts to mediate with Madrasas in Pakistan to foster better relations with the West.
"If you want to drain the swamp of extremism, you deal with the ideas behind the guns. Winning hearts and minds is contagious," he said.
Dr. Johnston explained that many modern conventions of education, such as mortar boards and tassels worn at graduations, had roots in the Madrasa system. "Few in the West are mindful of the illustrious history of these religious schools. Back in the Middle Ages they were without peer as pillars of higher learning and the European exposure to them led to our own university system," he said.
Dr Liesbet Steer, a fellow at the Center for Universal Education at Brookings, discussed Bangladesh's successful education reforms and the lessons that could be learned in Pakistan.
"Look at education as a modern civil rights movement." That's what former British Prime Minister Gordon Brown told Baela Raza Jamil, education activist and head of ASER Pakistan, a citizens learning and accountability initiative.
"Girls matter," she said, addressing Pakistan's poor record in gender equal education.
Education has to be looked at along with other key factors like health, nutrition, population and the environment, not just on its own, she told the conference, underlining the importance of secondary education as well as primary schools.
A second TCF-hosted conference seeking a solution to Pakistan's education emergency is planned for February 2015 in partnership with University of California Berkeley's Pakistan Initiative.
Any questions on TCF or the October 8 conference should be directed to:
David Gardner
Media Relations, TCF
+1 310 433 2392
David(at)DavidGardnerMedia(dot)com
THE CITIZENS FOUNDATION USA supports the building of civil society in Pakistan and promotes gender equality by providing quality scientific and balanced education for underprivileged children.
TCF-USA Website: http://www.tcfusa.org