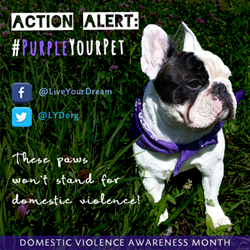 Philadelphia, PA (PRWEB) October 13, 2014
In support of National Domestic Violence Awareness Month (NDVAM), LiveYourDream.org and PetBox have teamed up to raise awareness by highlighting the connection between domestic violence and pet abuse. LiveYourDream.org, powered by Soroptimist, is an online platform offering on-and-offline volunteer opportunities benefiting women and girls.
The renewed focus on domestic violence couldn't come at a better time. Recently the news has been full of stories about sports professionals who have committed violence against their partners or children. While all eyes have been on the NFL and its players, domestic abuse occurs in every socio-economic class.
"Pet abuse is a little discussed, but very important, aspect of domestic violence," said Soroptimist President Margaret Davis of Las Vegas, Nevada. "It is a major predictor of domestic violence and often prevents a woman from leaving the abuse.
"In fact, 71 percent of pet-owning women entering shelters—which generally can't accept pets—report that their batterer had injured, maimed, killed or threatened family pets either for revenge or to psychologically terrorize the victims."
Unfortunately, domestic violence organizations report that between 25 and 40 percent of battered women are unable to escape abusive situations because they worry about what will happen to their pets if they leave.
Throughout the month of October, Soroptimist/LiveYourDream.org and PetBox will be featuring the #PurpleYourPet campaign (purple is the color signifying domestic violence awareness) to bring attention to the link between pet and domestic abuse.
Visit https://getpetbox.com/purple to take action. Additional suggestions for those who want to help domestic abuse survivors and their pets include:

Contact local domestic violence shelters to see whether they accept pets.
If not, offer to foster a pet for a woman fleeing a domestic violence situation.
Share this flyer http://bit.ly/purple-your-pet-flyer with pet-loving people.
Donate to organizations working to help survivors and eliminate abuse.
"Preventing and ending domestic violence is a social imperative. We have to join together to support survivors while ensuring they get justice," adds Davis. "Domestic violence must be treated as the heinous crime it is by sending a message to abusers that it will not be tolerated under any circumstances."
Headquartered in Philadelphia, Pa., LiveYourDream.org, powered by Soroptimist, is an online community offering volunteer opportunities to its more than 50,000 supporters. Its major program, the Soroptimist Live Your Dream Awards, provides cash grants to women for education and training, leading to improved career prospects. Since 1972, the award-winning program has disbursed more than $30 million to tens of thousands of women throughout the world, many of whom have overcome tremendous obstacles including domestic violence. LiveYourDream.org/Soroptimist is a 501(c)(3) organization that relies on charitable donations to support its programs.
Headquartered in San Diego, California, PetBox is a monthly online delivery service that provides a mix of healthy treats, toys and accessories for dogs and cats. Visit http://www.GetPetBox.com for more information.