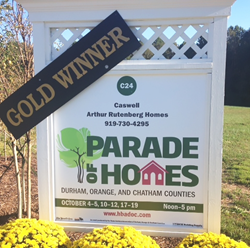 Durham, NC (PRWEB) October 09, 2014
The Home Builders Association (HBA) of Durham, Orange & Chatham Counties announced the Caswell Model home was a Gold Winner in its price class at the 2014 Parade of Homes. The winners were announced at the annual Parade Banquet with over 200 members and guests in attendance.
Sponsored by Stock Building Supply and The Herald-Sun, the Parade of Homes continues this weekend (October 10-12) and next weekend (October 17-19) from 12 Noon to 5 PM each day.
There is no admission fee.
The home is located at 151 ROLLING WOODS CT, CHATHAM COUNTY, PITTSBORO, NC, 27312. The 2-story home features 4 bedrooms, 4 1/2 baths, a 3 car garage, bonus room and den with 3,943 sq ft of living space.
For more information visit http://www.hbadoc.com, see the Caswell model at http://arhomes.us/TheCaswellModel, or call Dianne Baker at 919-704-8462 for more information.