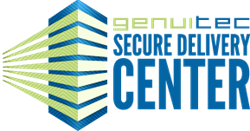 SDC gives SSI Schäfer a central delivery hub for WAMAS, access to customized installers, and the cost-savings of time.
Dallas, Texas (PRWEB) October 14, 2014
Genuitec, a maker of productivity tools for developers, is pleased to announce a joint webinar with SSI Schäfer, the world's leader in warehouse logistics management. SSI Schäfer will share experiences in flexing the Eclipse framework. Attendees will learn how SSI Schäfer leverages Eclipse and OS tools to power their unique software, WAMAS. In addition, learn how Genuitec's Secure Delivery Center facilitates SSI Schäfer's software release process by providing installation, update, and in-field patches. Leave with a new appreciation for how Eclipse keeps warehouses moving at top speeds.
Join us Wednesday, October 22nd at 10 AM New York / 3 PM London.
To register for this webinar, please click here: https://www.genuitec.com/go/ssischafer
SSI Schäfer's WAMAS product leverages the Eclipse platform as a technology base and as a development platform for their developers. Using Eclipse as the foundation for their tooling, SSI Schäfer designed WAMAS to enable their complex warehouse logistics management. WAMAS moves and tracks inventory throughout their warehouses and interfaces with the hardware and software of vendor and client devices. SSI Schäfer relies on their WAMAS tooling to ensure critical deadlines and inventory statuses are communicated across the entire process chain.
"Two years ago SSI Schäfer came to EclipseCon Europe with a delivery gap. They had the tools and software needed to power warehouses all over the world. But what they lacked was a way to deploy WAMAS to developers and clients," said Tim Webb, director of sales strategy and innovation at Genuitec. "SDC gives SSI Schäfer a central delivery hub for WAMAS, access to customized installers, and the cost-savings of time. SDC ensures SSI Schäfer's teams are able to focus on coding and provides the flexibility to utilize OS tools used by their clients and vendors."
Genuitec, a leader in Eclipse tooling, built Secure Delivery Center to work alongside Eclipse technologies. SDC provides a centralized way to deliver WAMAS to clients as well as fully configured development environments to the SSI Schäfer development teams. Over the air updates make SDC an integral part in managing rollout of updated WAMAS versions.
Join the webinar to learn how SDC empowers enterprises to build with and customize the Eclipse technology stack to fit their unique needs. SDC lets teams focus on coding by packaging and delivering everything teams need into a consolidated package. SDC simplifies package setup with an intuitive UI that requires minimal effort.
SDC is available as a complimentary 30-day trial at http://www.genuitec.com/sdc/download/. Trial and paid SDC licenses include all updates at no extra charge. Learn more about our value-driven pricing on our Pricing page. Enhanced service agreements are available and vary in cost.
About Genuitec
Started in 1997 and counting over 16,000 companies in 191 countries as customers, Genuitec is a leader in the Eclipse open source community. As a founding member of the Eclipse Foundation, Genuitec has actively participated in strategy, development, and direction for the organization.
Today, Genuitec supports one of the largest developer communities for commercial Eclipse tools. Customers benefit from Genuitec's ongoing commitment to open standards and to the continual enhancement of the MyEclipse, Secure Delivery Center, PiPlug, and GapDebug product families with unique innovations and low subscription pricing.
Contact Genuitec today to learn more: genuitec.com/company/contact
Follow on Twitter: @Genuitec @Genuitec_SDC
Like on Facebook: https://www.facebook.com/Genuitec
Find on Google + : https://plus.google.com/+GenuitecHome