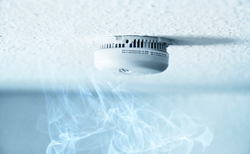 LINCOLN, R.I. (PRWEB) October 10, 2014
This year, Fire Prevention Week is dedicated to the proper installation and use of smoke detectors. That's why Amica Insurance is sharing the following tips from the National Fire Protection Association:

Put smoke alarms on all levels of the home, including in every bedroom and outside all sleeping areas. Bigger homes may require extra alarms.
Smoke alarms should be placed on the ceiling or high on the wall. They should be at least 10 feet from the stove in the kitchen to cut down on false alarms.
Make sure smoke alarms are interconnected, so that when one goes off, they all go off.
Test all smoke alarms at least once a month by pressing the test button.
People with hearing problems can install special smoke alarms that have strobe lights and bed shakers.
Replace smoke alarms when they are 10 years old.
About Amica Insurance
Amica Mutual Insurance Co., the nation's oldest mutual insurer of automobiles, was founded in 1907. The company, based in Lincoln, Rhode Island, is a national writer of auto, home, marine and umbrella insurance. Life coverage is available through Amica Life Insurance Company, a wholly owned subsidiary. Amica employs more than 3,300 people in 43 offices across the country. For more information, visit Amica.com.
CONTACT: Vince Burks, Corporate Communications, 50 Amica Way, Lincoln, RI 02865-1155, 800-652-6422, ext. 24563
Twitter: Amica
Facebook: Amica Mutual Insurance Co.