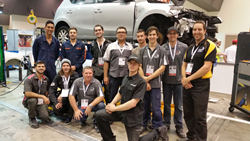 (PRWEB) October 11, 2014
TTi Global, with offices in 25 countries including Australia, was well represented at the 2014 WorldSkills Australia National Competition held in Perth, Australia at the Perth Convention and Exhibition Centre.
Lawrie Martin, TTi Global Body Shop Director volunteered his time to set up the practical projects display and to be one of the judges in the Body Repair category. Greg Stoneham, TTi Global Australia, MD visited the competition to view the various skills being tested.
TTi Global provides staffing, learning, research and consulting solutions to industries across various sectors with automotive as a core focus and oversees operations on five continents with offices spanning the globe.
The 2014 WorldSkills Australia National Competition show cased the skills of Australia's best young Vocational Education and Training (VET) students, apprentices and trainees. Each of the national competitors earned their position to compete on the national stage after their medal winning performances in the 2013 round of regional competitions held across the 30 WorldSkills Australia regions.
The major event saw almost 500 of Australia's most talented trade and skilled technicians representing 49 specialized skill categories in what is known as Australia's largest trade and skill competition.
Over three days, the competitors battled it out for the prestigious title of 'Nation's Best', as well as the chance to become a 2015 Team Australia Skillaroo. The 2015 Skillaroos will be heading to Brazil to represent Australia and their industry at the 43rd WorldSkills International Competition in São Paolo in August 2015.
The event, which takes place every two years, attracted thousands of spectators over the three days who watched on as the competitors put their skills to the ultimate test.
To view video highlights, imagery and the results from the 2014 WorldSkills Australia National Competition visit the WorldSkills Australia website
About TTi Global
TTi Global oversees operations on five continents with offices spanning the globe, which include Australia, Brazil, Canada, Chile, China, India, Japan, Mexico, Peru, South Africa, Thailand, Venezuela, UK and most recently Afghanistan.
With a staff of over 2000 employees in international operations, they offer a wide range of services, tailor made to drive business goals, including business consulting, research, staffing, workforce development and learning solutions. TTi Global world headquarters are located in Rochester Hills, Michigan.