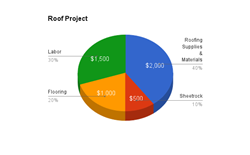 "We simply can't go it alone anymore. We need the support of animal lovers everywhere" – Jonathan Goodman (A Call 4 Paws Board Member)
Jersey City, New Jersey (PRWEB) October 14, 2014
A Call for Paws Rescue is a non-profit organization based in Jersey City, New Jersey. The group provides a home for abandoned and abused animals taken out of kill shelters until a permanent home can be found. The organization runs a spay and neuter program and rehabilitates animals until they are able to be placed. The agency serves as a foster home to prevent animals from being euthanized needlessly.
The current fundraiser project is for roof renovations on the cat house located at the rescue's 4-acre animal sanctuary in Pennsylvania. The cat house is home to over 70 feral cats and is an indoor and outdoor facility. The building needs new insulation, sheetrock and new flooring. The estimated cost of repairs is $5,000.
The fundraising effort is looking primarily for monetary donations to the project. Anyone willing to donate materials is encouraged to contact the organization. In the past, the organization has been able to fund 90% of the work that has been needed, but this project is too large for their budget.
Anyone interested in making a donation can visit the website, acall4paws.com or the project page on Fundly. Donors can choose to make a one-time donation or a recurring one. They can even donate anonymously if they wish. People can also follow A Call for Paws on Facebook and Twitter to learn more about the organization.
About A Call 4 Paws
Our mission is to help alleviate the shelter and stray population of cats and dogs, rescue them and find homes for them. We work on improving the animals' quality of life in our sanctuary. We are caring people who have taken animals from the street or have been abandoned or abused. Our objective is to bring these animals back to good health, socialize them, then find them permanent, loving "forever" homes. Our sanctuary is located in Jonestown, Pennsylvania. It consists of 4 acres of land on which there are several buildings for our rescued animals, where they are fed, loved and cared for.
Contacts:
Jonathan Goodman, Board Member
A Call 4 Paws
Phone: (201) 736-6625
Email: acall4paws(at)gmail(dot)com