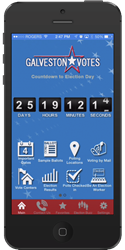 Digital communications, including social media and smart phones have become the dominant means of communication in modern society - Dwight Sullivan
Galveston, Texas (PRWEB) October 13, 2014
Today the Galveston County Clerk's office released their iPhone and Android mobile applications to mobilize their election information. The apps, available in both the Apple iTunes and Google Play app stores, provide the constituents of Galveston County with instructions on registering to vote from their mobile device along with up-to-date voter ID requirements. The mobile applications also allow constituents to view and track key election dates, find their polling place and view sample ballots. Additional features include information on becoming a polling station official, election results and finding their current elected representatives.
The apps also provide the ability for Galveston County to send push notifications to constituents with the application to actively inform them of changes to election information or to highlight critical election events, including upcoming deadlines, changes in polling place hours and Get Out The Vote (GOTV) initiatives.
"Digital communications, including social media and smart phones have become the dominant means of communication in modern society," said Dwight Sullivan, Galveston County Clerk. "This is our first step, one which we expect to expand on over the next few years in the delivery of mobile election information and services to our constituents."
Purple Forge, the leading provider of election and other citizen engagement mobile applications to cities, counties and governments in the US and Canada, provides the mobile application services for Galveston County. Purple Forge has deployed mobile election applications to a number of cities and governments in North America, including the City of Long Beach (CA), Denver County (CO), Union County (NJ) and Edmonton, Alberta.
"Galveston County can now count itself amongst the first counties in the US, and the first in Texas to leverage mobile applications as a way of communicating with their voters," shared John Craig, VP Sales and Marketing of Purple Forge. "This approach will give Galveston County the widest array of technologies for connecting their constituents to the latest election information."
About Purple Forge
Purple Forge sells subscription based services to organizations looking to engage their stakeholders using the latest mobile application technology and leveraging community engagement and social networking best practices. Purple Forge is an award-winning firm led by seasoned mobile communications and Internet technology veterans. Our mobile applications allow organizations to broadcast, share, and receive feedback from their target audience real-time, allowing them to foster long-term, engaged relationships.
Purple Forge Contact: John Craig, VP Sales and Marketing, john.craig(at)purpleforge(dot)com
Galveston County Clerk's Office Contact: Bill Sargent, Chief Deputy Clerk for Elections, william(dot)sargent(at)co(dot)galveston(dot)tx(dot)us