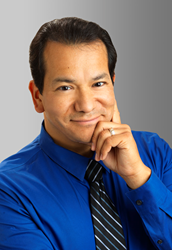 (PRWEB) October 10, 2014
Paul R. Mata has joined a select group of business leaders from around the world, along with TV pioneer Kevin Harrington (Original shark from Shark Tank) and renown money expert Loral Langemeier, to co-write the forthcoming book titled, Get in the Game: The World's Leading Entrepreneurs and Professionals Reveal How YOU Can Get Off the Sideline and Start Improving Your Health, Wealth and Lifestyle. Nick Nanton, Esq. along with business partner, JW Dicks, Esq., the leading agents to Celebrity Experts® worldwide, recently signed a publishing deal with each of these authors to contribute their expertise to the book, which will be released under their CelebrityPress™ imprint.
Paul R. Mata is the Founder of the financial education company, Logos Lifetime Enterprises, and author of the book, Create Indestructible Wealth. In his proprietary system, Create Indestructible Wealth: Make, Sustain, and Protect your Wealth in any Economy, Paul teaches people how to have an abundant and prosperous life without taking excessive risks.
Paul's background includes working for a Wall Street firm for over two decades as a senior financial advisor, certified financial planner, and managing principal, working with thousands of clients and personally managing over $50 million worth of assets.
In his presentations, Paul shares numerous stories of his days at the Wall Street firm, and how he spent those years becoming an expert in asset allocation, investment planning, retirement strategies, estate planning, insurance, tax optimization and minimization strategies, and asset protection.
The royalties earned from Get in the Game will be given to Entrepreneur's International Foundation, a not for profit organization dedicated to creating unique launch campaigns to raise money and awareness for charitable causes. The book is tentatively scheduled for release in the first quarter of 2015.
About Logos Lifetime Enterprises
Logos Lifetime Enterprises mission is to help people lead an abundant and prosperous life with a passion to serve others. They help people of all ages and backgrounds lead better lives by helping them make, sustain, and protect their wealth in any economy.
Logos Lifetime University was founded as developed by Paul Mata who has over 20 years of experience working at a Wall Street Firm as a stock broker and managing principal. After creating more than nine successful companies, Mata decided to establish Logos Lifetime Enterprises in 2012 to teach people everything he learned about creating wealth. Author of the book Indestructible Wealth, Mata is the leading expert on creating holistic wealth. Today Mata focuses on helping people create indestructible wealth through his proprietary 12-step wealth creation system that incorporates growing people's financial assets, as well as their mental and physical assets so they can develop a wealth that can never be destroyed.
For more information, visit http://www.CreateIndestructibleWealth.com, like LLE on Facebook and Follow LLE on Twitter.