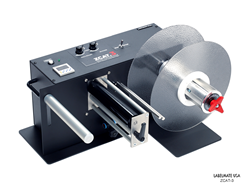 The ZCAT-3 provides a tightly wound finish roll while placing no tension whatsoever on the printer
Henderson, Nevada (PRWEB) October 10, 2014
Labelmate USA, the world's leading manufacturer of tabletop label handling equipment will be introducing its new Zero Tension Loop Rewinder, ZCAT-3, at the Pack Expo International Trade Show at McCormick Place in Chicago, IL on November 2, 2014.
Pack Expo is an annual trade show which features cutting-edge advancements in machinery and packaging solutions, and attracts professionals in the food, beverage, confectionery, pharmaceutical, and cosmetic industries from around the world. Labelmate USA will be showcasing its products in Booth N-6171.
The ZCAT-3 Zero Tension Loop Rewinder is a revolutionary new tabletop Label Rewinder that places no tension whatsoever on a printer while simultaneously yielding a consistent and tightly rewound roll. The ZCAT-3 uses a chassis-mounted photo-detector to start and stop the rewinding action. A "loop" of label stock is created between an Adjustable Roller and a Nip Roller Assembly thereby eliminating all tension on the printer, and the photo-detector turns the rewinding action on and off to maintain the optimum depth of the loop. Fully adjustable tension exists between the Nip Roller Assembly and the Rewinder thus yielding a consistent and tightly wound finish roll.
According to Stuart Ripplinger, General Manager of Labelmate USA "The ZCAT-3 is the ideal solution for printers that back feed, as well as for extremely sensitive printers that can't tolerate any rewind force without causing undesirable registration or artifact problems. The printer is happy because no tension is placed on it whatsoever, while at the same time the finish roll is clean and tight as a result of the adjustable tension between the Nip Rollers and the Rewinder."
The base model ZCAT-3 is priced at $1,895 and is backed by a full 5-year parts and labor limited warranty. Optional upgrades and custom OEM configurations are available including a Digital Counter, Core Adaptors, and an Adjustable Core Holder.
The ZCAT-3 is the newest ground-breaking addition to Labelmate USA's world famous line of CAT-3 Rewinders. Since 1997 Labelmate USA has been the world's leading manufacturer of quality tabletop label handling equipment such as Rewinders, Unwinders, Dispensers, Counters, Slitters, Print Mechanisms, Splicers and Core Chucks. There are currently over 80,000 Labelmate products working perfectly in more than 70 countries throughout the world. Labelmate USA's sales, support, product engineering and manufacturing operations are based in Henderson, Nevada.
Availability of the ZCAT-3 is stock to four weeks. Contact Labelmate USA at sales(at)labelmateusa(dot)com or (877) 833-7149 to place your order. Initial deliveries will commence November 2, 2014.
###