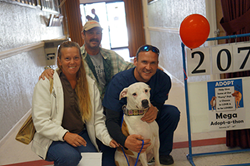 Fall in love with the perfect pet during two days of non-stop pet adoptions.
Melbourne, Florida (PRWEB) October 09, 2014
The SPCA of Brevard, along with seven Brevard-based animal welfare groups, including Sheriff Wayne Ivey's new Animal Services, will attempt to break previous Brevard County adoption records on Saturday, October 25, and Sunday, October 26. Event attendees will have the chance to meet a new pet and fall in love with one of the hundreds of dogs and cats during the two full days of non-stop pet adoptions at the Azan Shrine Center in Melbourne.
Last January, attendees lined up around the building on both event days in anticipation of meeting their new furry family members and event record pet adoptions were 278, all for just $25! The October event is expected to have an even higher excitement level over the newly acquired Animal Services by Sherriff Wayne Ivey and with the increased participation by other animal rescue groups in Brevard. Taking advantage of this momentum, the adoption goal for October will be to find 350 previously homeless pets new, loving families in just two days!
In preparation for this life-saving weekend, the Brevard Community Mega Adoption Events Facebook page has started promoting County Shelter animals that are in urgent need of rescue or foster until the Mega Adoption Event in order to save their lives. Individuals who volunteer to be temporary foster caregivers will save a life and then, upon transporting the animal to the Mega Adoption Event at the Azan Shrine in Melbourne, experience the joy of seeing their foster get a forever home. Local businesses and their employees can participate by either temporarily fostering an urgent pet in need, or by volunteering to help at the event. Details on becoming a foster parent or a volunteer can be found at http://www.spcamegaadoptions.org.
"Foster homes are the most critical link in saving the many animals that are at risk of losing their lives in Brevard Animal Services Shelters," explains SPCA executive director, Patrick Fox. "Fostering a homeless pet doesn't require a long-term commitment, but it does give that pet extra time needed to find a forever home."
Participating shelters, rescues and foster homes will bring pets to the venue where attendees can meet and fall in love with the perfect pet during these two days of non-stop pet adoptions. All pets at the event have been spayed or neutered, are up-to-date on vaccinations and are ready to go home with their new families the very same day for an adoption fee of just $25. To help new pet parents, there will also be groups on hand to provide advice on what to expect when bringing a new pet home and to offer free training tips. Due to limited space, event organizers request that visitors do not bring current pets to the event without making prior arrangements.
Brevard Community Mega Adoption Events consists of the SPCA of Brevard, Brevard County Animal Services, Brevard ASAP, the Brevard Humane Society, Hope for Brevard, Space Coast Feline Network, the Last Chance Sanctuary and Purrs and Whiskers Shelters, Inc. This event is sponsored, in part by PetSmart Charities and the Community Foundation for Brevard. The Azan Shrine Center is located at 1591 W. Eau Gallie Boulevard in Melbourne. For more information visit http://www.spcamegaadoptions.org or contact Patrick Fox at 321-362-0590 or Susan Naylor at 321-501-7696.
###
About SPCA of Brevard
The SPCA of Brevard is a private, non-profit organization with the mission of "protecting and providing a voice to the homeless animals of Brevard County." It receives no funding from the government and relies on private donations to be able to serve the community. It operates thrift stores in Titusville and Merritt Island, which are stocked solely with donations for resale to help fund adoption center locations.
Founded in 1979 in Titusville, Florida, the SPCA is the largest private no-kill animal rescue group in Brevard, will find homes for more than 2000 animals this year. It is the first adoption facility with free-roaming cat rooms in the County, allowing adopters to interact with the cats in a more home-like setting. Its new Adoption Center in Titusville is over 11,000 square feet and sits on nearly three acres. Additionally, it operates two satellite Cat Adoption Centers in the Melbourne and Merritt Square Malls, which have contributed to a 241% increase in adult cat adoptions. Additional adoption statistics can be found here. The SPCA of Brevard Clinic also provides reduced-price vaccines to the public and has performed more than 55,000 low-cost spay/neuter surgeries since 1999.
For more information, visit http://www.spcabrevard.com.