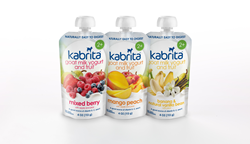 GMO ingredients have not been tested on children. As a mom myself, that's a huge consideration.
(PRWEB) October 10, 2014
According to a recent Consumer Reports study, more than 70% of Americans say they don't want genetically modified organisms (GMO) in their food – but over 80% of processed foods contain them. Kabrita is proud to offer parents America's first Non-GMO Project Verified Goat Milk Yogurt and Fruit, in easy-to-squeeze pouches.
"At Kabrita we prioritize quality, transparency and safety. Using Non-GMO ingredients allows us to carefully trace the origin of each of our ingredients and ensures top quality," says partner and CMO, Carolyn Ansley. "Furthermore, genetically-modified ingredients have not been tested on children. As a mom myself, that's a huge consideration."
GMO labeling policies exist in more than 60 countries worldwide, including Australia and every country in the EU. In the US, only Maine and Connecticut have passed legislation, although more than 30 states have legislation pending. The Non-GMO Project fills the gap by providing North America's only third-party verification and labeling program for non-GMO food and products. Its mission is to grow the non-GMO food supply by giving consumers a clear choice – and it has certified 21,000 items since it was founded in 2007. Kabrita is proud to be part of this movement toward greater transparency for consumers.
In order to achieve verification and use the trusted butterfly logo, products and ingredients are subjected to rigorous evaluation and testing to ensure they meet the non-GMO project standard. Testing is conducted quarterly to ensure continued quality.
Kabrita Goat Milk Yogurt and Fruit is available for sale at Whole Foods Markets, Kings Food Markets, independent health food stores, http://www.diapers.com, http://www.amazon.com and https://kabritausa.com. Suggested retail price is $2.89 per pouch, or $15.99 for a case of six. They are available in three toddler-approved flavors – Mixed Berry, Mango Peach, and Banana and Natural Vanilla Bean.
About Kabrita North America
Kabrita North America makes gentle, naturally easy to digest goat milk foods for children. Through education and support Kabrita helps empower parents to make nutrition choices for their child with confidence and joy.
Kabrita North America is a partnership between founders CEO Dr. Kate Morrison, N.D., CMO Carolyn Ansley, and Hyproca Nutrition – a Dutch company with over 70 years infant nutrition expertise.