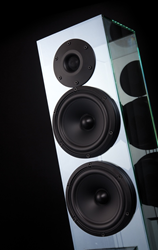 This partnership is bolstered by a shared dedication to bring only the best of high performance audio to luxury homes across the Los Angeles area.
Dallas, TX, Los Angeles, CA (PRWEB) October 10, 2014
Nouveau Distributing, the exclusive wholesale representative for Waterfall Audio speakers in North America and the Caribbean, today announced an agreement with Los Angeles-based BCG Concepts in an effort to focus on serving the residents and businesses of Los Angeles, Beverly Hills, Studio City and the entire region. Nouveau Distributing and BCG Concepts will both be demonstrating the Waterfall Audio line of speakers at The Luxury Technology Show in Beverly Hills, California on October, 15, 2014.
The goal of the partnership is to bring the best in design and speaker systems to the Los Angeles area. Southern California residents now have the exclusive opportunity to experience the Waterfall Audio line with a local dealer and showroom.
The team at BCG Concepts is known for designing and integrating turn-key home automation solutions in Los Angeles-area luxury homes. Owner Bryan Gorog's experience extends past traditional integrators with his hands-on approach to every aspect of system design from installation to equipment sales.
"Bryan has a reputation for success and creating perfection for his clients, which motivated me to approach him to become a Waterfall Audio dealer," Joseph Kirby, Managing Partner of Nouveau Distributing said.
The elaborate hand-crafted leather and glass details of each Waterfall speaker in conjunction with their outstanding audio made the arrangement attractive for Gorog as well.
"This partnership is bolstered by a shared dedication to bring only the best of high performance audio to luxury homes across the Los Angeles area," continued Kirby.
Kirby and Bryan Gorog will make their first appearance representing Waterfall Audio together at the Luxury Technology show. Both will be on hand to provide acoustic demonstrations of the glass speakers as well as answer any questions from design professionals seeking to create a unique yet top-of-the line media room for their home automation integrations.
Produced by RAND Luxury, The Luxury Technology Show will be held at The Petersen Automotive Museum. The show gathers media, retail executives, interior designers and affluent consumers interested in acquiring the world's finest innovations. This invitation-only event showcases only 50 innovative brands to enable more one-on-one interaction between guests and exhibitors. The Luxury Technology Show is the second stop on Nouveau Distributing's fall technology tour.
"It really is amazing to see the expression on someone's face, when they recognize the sound they hear is coming from a glass speaker," Kirby said. "As the exclusive distributor of Waterfall Audio, we relish these opportunities to bring superior glass craftsmanship to new audiences."
A wide variety of industries will be represented at both shows aligning Nouveau Distributing with some of the world's leading luxury and electronics brands.