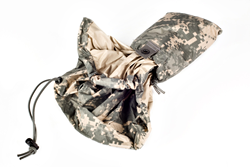 The camouflage BORSAbag was designed to replace the disposable resealable bags used by soldiers on field duty
Alexandria, VA (PRWEB) October 27, 2014
BORSAbag® is proud to introduce a NEW camouflage BAG-in-a-bag™. The new camouflage bag enhances the BORSAbag brand, and extends coverage to our military friends, all service personnel, and outdoorsmen. Use this BAG-in-a-bag for equipment, for camping, boating, or as a bear bag. Its durability will give you years of service. Cover, protect, conceal.
The camouflage BORSAbag was designed to replace the disposable resealable bags used by soldiers on field duty to protect their personal items and equipment. The camouflage BAG-in-a-bag eliminates the constant need to carry and dispose of multiple resealable bags; the BORSAbag can be used over and over again and can be made for specific items of any size.
To use the camouflage bag, pull the large protective bag from the small pouch and turn the large bag inside out, protecting the small pouch along with personal items. Secure the large, protective bag with the elastic drawstring and barrel slider. To store, remove your items, turn the large bag inside out exposing the clean, dry pouch; stuff the large bag into the small pouch. By using the grommet provided, the pouch can easily be secured to a carabiner. Or, use the elastic drawstring and secure to a belt loop.
The regular BORSAbag is available in a variety of colors and has endless uses. Empty, the BORSAbag can be carried with ease inside its self-attached pouch, or fill it and carry it using the convenient shoulder straps. Secure it to a handbag, computer case, briefcase or carry-on. It can serve as a beach bag, a laundry bag, a grocery bag, a gym bag. Use it to cover a handbag or briefcase before placing it on a dirty floor; keep a novel, computer or iPad inside for easy retrieval. The BORSAbag is fully washable, perfect for protecting valuables of any kind.
While traveling, use the BORSAbag for anything and everything. Put your wet swimsuit inside the BORSAbag and safely store in a carry-on. Later, simply wash it and hang it up to dry.
Nothing compares to the BORSAbag's ability to safely carry items while protecting against moisture, dirt, and germs. BORSAbag is self-storing, lightweight, water resistant, washable and made in America. The small pouch is approximately 4" x 5"; the large protective pouch is 18" x 18", and weighs only 3 oz.
The Bag For All Seasons; The Bag For All Reasons®