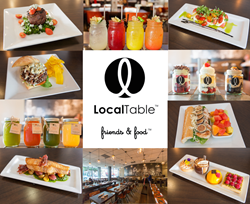 We want to create a dining experience unlike any other in LA… I want Local Table to be the café by the corner - everyone's 'local spot' they can come to not just for good food, but a great overall experience."
Los Angeles, CA (PRWEB) October 10, 2014
Over the past decade, downtown Los Angeles has experienced one of the biggest rebirths any US city has ever seen. Voted 'America's Next Great City' by GQ Magazine, and going from 'Gritty to Glitzy' as put by the Wall Street Journal, downtown LA has seen an incredible influx of upscale shopping, luxury living, and restaurants bustling with the millennial crowd. In February of 2014, the Financial District welcomed its first premium casual dining experience with the opening of Local Table – an award winning restaurant distinguished by its contemporary food, atmosphere, and impeccable customer service.
Local Table has accomplished a new standard in dining and consistently offers guests a unique palate of local, organic, and sustainably sourced ingredients. In turn, this has awarded the restaurant more than 146 five star ratings on Yelp since it's opening just 8 months ago – a feat well worked for and deserved.
"I spend hours on end every day researching the food industry and current trends," says Local Table Senior Partner, Dariush Fakheri. "We want to create a dining experience unlike any other in LA… I want Local Table to be the café by the corner - everyone's 'local spot' they can come to not just for good food, but a great overall experience. Our tagline is Friends and Food TM for a reason – and isn't that what real friends do? Happy to see and share the taste of great food with each other."
Awarded "Best Customer Service in DTLA" by Los Angeles Downtown News, Local Table consistently strives to innovate by offering exclusive drinks and food to their guests only available in-house. The restaurant is open for breakfast, lunch, and dinner Monday through Friday from 7:30AM until 10:00PM, and Saturdays they offer a popular brunch menu including bottomless mimosa offerings from 9:00AM-3:00PM and dinner is served until 9:00PM. Their loyal, friendly staff is confident that the menu is fashioned with a diverse array of items sure to please guests from all walks of life. Crafted by blending the styles of both an in-house executive chef and pastry chef, plates such as the Local Shakshukah Pan, the Local French Toast, and the Local Garden and "Local BRGR" have quickly become Local Table hits.
Aside from offering impeccable service and food, Local Table also features a marketplace for those looking to "grab and go." The marketplace offerings consist of items such as homemade daily kale chips, granola, seasoned fruit crisps, pastries, cold pressed juices, homemade jams, pastries, and the nation's number one coffee brand, Blue Bottle - all of which are produced in-house daily. All items and aspects of the establishment have been inspired by DTLA's changing landscape and have therefore become an initiative in helping to sustain LA's trendy crowd.
Finally, owner Dariush understands that the atmosphere of a venue can impact the experience just as much as the food itself. Built with a locally conscious, ecological, and socially responsible philosophy in mind, Local Table's interior features sustainable bamboo, green certified white stone, vintage reclaimed tiles from DTLA's 1920s buildings, chairs from the European elementary schools in the '50s in Los Angeles, and shows off a local photographer's shot of the DTLA skyline to serve as a feature in the space. Local Table also prides themselves in reusing all of their take out bags and offering customers a reward system for bringing their signature mason jars back to the restaurant to be refilled. The restaurant offers free wi-fi throughout, encouraging guests to stay as long as they please, and delivers to customers in downtown by bicycle and foot.
Local Table welcomes locals and tourists alike to experience dining like never before, and find a new local home amongst bustling downtown.
About Local Table:
Local Table is Downtown, LA's first Premium Casual Restaurant specializing in Unique and Creative alternatives to Breakfast, Lunch & Dinner. Prominently located on Historic Figueroa Street in between the bustling Financial District and L.A. Live. Local Table produces the finest fare one plate at a time that is handmade, honest and delicious.
About Dariush Fakheri
Dariush Fakheri is the president and an investor in Local Table. With an entrepreneurial and philanthropic background, Fakheri has built many successful businesses spanning from the telecommunications to real estate businesses. Local Table was developed in his mind to provide healthy and delicious dishes for a healthier lifestyle. Fakheri recognizes that in this day and age, not having a healthier lifestyle is not an option anymore and hopes to expand on the Local Table brand in the future.
For media inquiries or to setup an interview or press visit, please contact Kelley Weaver at Melrose PR, kelley(at)melrosepr(dot)com or (310)260-7901.