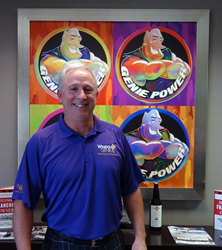 We are motivated to build a strong reputation in the community.
Myrtle Beach, SC (PRWEB) October 09, 2014
Window Genie announces the grand opening of its newest location in Myrtle Beach on Monday October 13th. Tom Washer is the owner/operator. Window Genie is a nationally ranked home service franchise specializing in window cleaning, window tinting, pressure washing, gutter cleaning and more. Window Genie of Myrtle Beach will service the surrounding Grand Strand areas from Little River to Georgetown.
Prior to Window Genie business ownership, Tom Washer spent 4 years in the Air Force before a career in sales management for a variety of industries. Working in sales brought him all over the country from Texas to New Mexico to Connecticut to Massachusetts. Tom and his wife Cheryl decided to relocate to Myrtle Beach to open their business because it's where much of their family now lives. Washer said, "We're very family oriented and wanted to find an opportunity to move down here. Long-term security along with my vast knowledge of sales and personal service has motivated me to start a business."
Working with a franchise coach at The Entrepreneur's Source, Washer was able to narrow down which business opportunities fit him best. He said, "I like to be out and about, interacting and providing a personal experience for the customer. We quickly realized a home service oriented business was what I was looking for, but there are a lot of options out there." While researching businesses specializing in customer service, Washer found that Window Genie stood out among the rest. He said, "I ultimately chose Window Genie for its potential for growth and success. We can build a loyal customer base by offering a variety of services for every home at every budget."
Tom's wife Cheryl Waterhouse will help run the business, providing administrative and customer support. "We are excited to finally get out there in the community together and meet our customers," Washer said. "We are motivated to build a strong reputation in the community resulting in a loyal, repeat customer base."
Tom and Cheryl have three children each of whom are actively involved in providing a service to their community or country. Matt is a Marine pilot and has served two tours of duty in Afghanistan. Tom is an assistant controller for a national general contracting firm that is a recognized leader in the retail construction service industry. Monica resides in Japan with her husband who is in the Navy. Window Genie of Myrtle Beach will support the Wounded Warrior Foundation. Tom said, "I served many years ago and serving our country and supporting those who serve is a big part of our family. We are determined to make community service a big part of the business."
Window Genie of Myrtle Beach officially opens for business on Monday October 13th. To learn more about Window Genie of Myrtle Beach or for a free estimate, contact Tom Washer at (843) 691-0100 or twasher(at)windowgenie(dot)com
Franchise opportunities available nationwide. Window Genie offers incentives to veteran franchise owners. For more information please visit: http://windowgeniefranchise.com