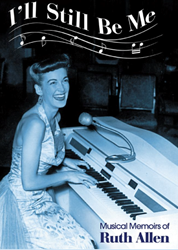 I am winning this game called life and living and loving every minute of it. Through it all though…I'll Still Be Me.
LOS ANGELES (PRWEB) October 09, 2014
For many, there is a great draw to the sights and sounds of the theatre. For some, the chance at a famed career is worth fighting tooth and nail. For some, like Ruth Allen, the love of music never fades, even when having lived too often in the shadows.
"I'll Still Be Me," by singer/composer Ruth Allen, is a melodious tale of a robust woman, but also the story of an affectionate, loving mother. The book details Ruth's story, which spans times of distress in the world—also discussing the peaceful and historic times witnessed by this storied woman.
"This book is a brief, factual, historical walk through a very interesting time in history. A walk through war and peace as well as sadness and happiness. The international walk of a fabulous female, occasionally in the spotlight—too often in the shadows, until now," said Ruth's daughter Beth.
Ruth penned this book during a time of turmoil in her life. Starting as thoughts, she found that her words had developed into a memoir of sorts. A memoir that encouraged her to emerge from this hardship, ready to take on life and embrace what it has to give.
"I'll Still Be Me" is a passionate tale that provides readers with a glimpse into the life of an amazing woman: singer, composer, pianist, that has too often been overlooked, and allows them to walk away with a newfound passion to live life.
"I am winning this game called life and living and loving every minute of it. Through it all though…I'll Still Be Me," Allen said.
For more information, visit ruth-allen.com
"I'll Still Be Me"
By: Ruth Allen
ISBN: 978-1-49185-202-6
Available in softcover, hardcover and e-book ($3.99)
Available on Amazon, Barnes & Noble and AuthorHouse
About the author
Ruth Allen began her singing career in a blitz-ravaged London when the show went on despite the air raid warnings. After the war, under her stage name, Ronnie Graham, she began recording as the 'talk of the town'—the girl with the white grand piano at the chic Astor club in Berkeley Square and touring Europe where she met Billie Holiday at the Mars Club in Paris. When love intervened in the shape of an American GI, Ruth began a new life, a family and an enduring love affair with the USA. However, she never lost the passion to sing and write songs. Still recording and performing today, Ruth is also hoping to see her East End Musical "Ring Out the Bow Bells," complete with 18 of her original songs, on the big stage.
# # #
**FOR IMMEDIATE RELEASE**
For review copies or interview requests, contact:
Daniel Pearson
317.602.7137
dpearson(at)bohlsengroup(dot)com