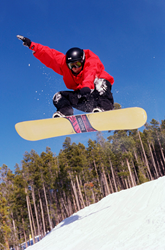 Granby Ranch delivers a Colorado skiing and riding for less than other mountain resorts, and with a trail network that starts and ends at Base Lodge, it's easy for families of all abilities to play together.
(PRWEB) October 11, 2014
Granby Ranch, the four-season mountain getaway, which is located less than two hours from Denver, today announced its new offerings and events for the upcoming winter season. The resort's opening day is Thursday, Dec. 11.
"Granby Ranch is not your typical mountain getaway," says resort CEO Kyle Harris. "It's a place where family-friendly isn't just a catch phrase – it's part of our DNA." Guests and residents come to Granby Ranch to escape the big-resort attitude, embrace the great outdoors and connect with each other on the mountain, at the Grill, or around the fire pit for drinks and s'mores. "We deliver Colorado skiing and riding for less than other mountain resorts, and with a trail network that starts and ends at Base Lodge, it's easy for families of all abilities to play together." Visitors may choose from a range of lodging options, including privately owned slope-side condos, townhomes, cabins or luxury homes.
Ski Granby Ranch – new runs, night skiing, lessons & rental gear
Ski Granby Ranch's kid-friendly trail on the Zephyr Run is getting an upgrade. The trail and old western town facades are being upgraded and additional features are being added so kids can ski or board through the store fronts, linked with a tunnel and covered bridge. There are cut outs of deer, elk and bear to enhance the experience.
Ski Granby Ranch is adding four new runs this year, bringing the total number of ski trails to 38. There are two new runs on the West Mountain, called Rough Rider and Striker. These are expert-level black trails that bring the total number of runs on the West Mountain to 15. Granby Ranch is also improving access to Dean's Glade on West Mountain. The trees have been thinned, and the run has been graded, creating easier access that is not as technical. The Poma Lift will be reopened this year, giving access to Lone Pine Bowl, an area that hasn't been available to skiers and riders in 15-plus years! There's also a new gladed area off Bronc Rider on the East Mountain where the trees were cleared to create a green run called Bonanza Glade. Fox Den is another addition, which creates an easier access to the base for beginners.
Those who don't like to stop skiing after sundown will appreciate Granby Ranch's night skiing and riding program – the only of its kind in Grand County. Night skiing will be offered Fridays and Saturdays from 5-8 p.m. from January 2-March 28, as well as holidays, including December 26-30, January 16-18 and February 13-15. The cost is $14 per night, and it's complimentary for season pass holders.
Also new in 2014-15, Ski Granby Ranch offers additional ski and ride school options. There's the Ranch Rippers Multi-Week Lessons program, aimed at children of all abilities, ages 3-12 years old. This program focuses on skill progression through group activities, games and competition. More advanced participants will explore the terrain park and be introduced to racing. This package starts at $375. Kids ages 6-12 years old can take advantage of the new Max-Four Semi-Private Lessons. These three-hour lessons are limited to four participants, ensuring an intimate experience. Kids will be grouped by skill level and peer group. Morning lessons start at 11 a.m., while afternoon lessons begin at 1 p.m. The cost starts at $119.
The ranch is also continuing to invest in its rental fleet, and in partnership with K2 skis and snowboard products has added a total of 200 adult and junior skis and 75 pairs of snowboard boots. Ski Granby Ranch also boasts more than 400 new ski boots from Dalbello.
New Events
For the 2014-15 season, Ski Granby Ranch has added a "Rock the Ranch" series in March and April. Celebrate spring with live music on the patio, outdoor BBQs and beach parties.

Live Music on the Patio: Saturdays, March 7 – April 4
Night Ski Scavenger Hunt: Friday and Saturdays, March 6 – March 28
Beach Bash & Pond Skim: March 28 - Enjoy the snow bar, music, annual pond skim, everyone will receive a Hawaiian Lei!
Easter Celebration: April 5 – Complete with an Easter egg hunt, an Easter service on Vista Ridge and skiing with the Easter Bunny.
Additionally, Granby Ranch is hosting S'mores Night Skiing on Fridays from January 9-March 6, where skiers and riders get one free s'more kit with each paid lift ticket. Finally, take part in #GranbyGlow Night Skiing. Saturdays from January 10 – March 7. Get glow sticks with each paid lift ticket and Instagram your favorite pictures for a change to win free lift tickets!
Learn more about Granby Ranch and plan a visit at http://www.granbyranch.com or take advantage of a lodging package by calling 888.850.4615.
About Granby Ranch (http://www.granbyranch.com)
Located just 90 minutes from Denver and just 15 minutes from Winter Park and the western entrance to Rocky Mountain National Park, Granby Ranch is not a typical mountain getaway. It's a peaceful mountain retreat that allows people to be closer to the mountains. After connecting with nature, guests and residents connect with one another by gathering at the Grill or around the fire pit for drinks or s'mores. Granby Ranch delivers Colorado skiing for less than other mountain resorts and strongly appeals to families and empty nesters who can stay in a privately owned slope-side condo, townhome, cabin or luxury home rental on their Colorado mountain getaway. Year-round activities range from fishing and golfing to hiking, biking and skiing.