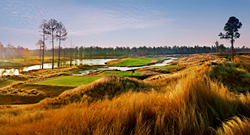 Fall Weekend Events at Brunswick Forest
Wilmington, North Carolina (PRWEB) October 10, 2014
The leaves will be turning soon in southeastern North Carolina. Sunrise shimmers on the pines and cedars; and snappy crystal mornings offer excellent golf weather. Before the hustle and bustle of the holidays hit, why not take advantage of a very special fall weekend event on November 7-9 at Brunswick Forest? That's the weekend they will release premier home sites on Cape Fear National® golf course, the award-winning 18-hole championship golf course located within the popular master-planned community of Brunswick Forest. This is a limited release of some of the finest golf course home sites near Wilmington. These premier home sites (up to half-acre) abutting Cape Fear National golf course feature exceptional views and privacy.
A special agenda is planned for the release of these notable home sites, including golfing, river tours, cocktails, dining, and socializing with residents who are already happy to call Brunswick Forest "home." Here is quick rundown of events for this special golf course lot release weekend:
BRUNSWICK FOREST FALL WEEKEND EVENT SCHEDULE
Friday – Welcome Reception
Saturday – Southern Style BBQ with music and entertainment. Find out how friendly and interesting the neighbors are.
Golf – Play 18 holes, two-some, on Cape Fear National, and perhaps envision a future home with the course as backdrop.
Boat Cruise – Travel down a lazy river, Town Creek, which empties into the Cape Fear River south of Wilmington. Depart from Brunswick Forest's own River Club dock.
VIP Tour – The friendly and knowledgeable staff at Brunswick Forest will be available to show folks the full range of community amenities and lovely model homes as they answer all questions.
​Attendees will have access to everything, so they can plan to take some quiet "me" time, or play 'til it's time to sleep. It's up attendees when folks book a reservation for this fun celebration of the release of Brunswick Forest's premier golf course home sites near Wilmington.
Historic downtown Wilmington, with its museums, pedestrian art, shopping, dining, horse-drawn carriages and the Battleship North Carolina, is a 10-minute drive from Brunswick Forest and Atlantic beaches are only 20-30 minutes away. For families of all sizes and ages seeking a friendly and amenity-rich community in coastal North Carolina, this celebratory weekend is the perfect way to get to know Cape Fear National and Brunswick Forest.
Brunswick Forest is growing fast and offers a wide selection of homes – including Carolina bungalows, Floridian-style patio homes, coastal cottages and premiere golf course estate homes – in several different neighborhoods where over 1,200 families already reside. The environmentally sensitive community sits amidst beautifully wooded areas on 4,500 acres. Neighborhoods are connected by sidewalks, and there are 100+ miles of hiking, biking, and nature trails throughout, so neighbors are always nearby with a ready smile and friendly wave. While homes in Brunswick Forest are surrounded by nature, and it may seem like residents live in a peaceful but remote wooded retreat, necessities and more are a just bike ride away. The Villages of Brunswick Forest, a commercial town center located at the entrance to the community, offers a gathering spot for neighbors and conveniences such as a grocery store, bank, pharmacy, restaurants, retail shops, and medical offices near home.
Residents at Brunswick Forest take full advantage of the mild coastal North Carolina climate and active, outdoor lifestyle with community parks, gardens, creeks and streams, and walking and biking trails winding through the community. They also enjoy a superior set of resort-style amenities including an 18,000 sq. fitness center, indoor and outdoor swimming pools, five tennis courts and a sport court, a Comprehensive Fitness Center with lounge, and their own private canoe, kayak and small boat launch.
And when it comes to stunning golf course home sites nestled near Wilmington, Cape Fear National in Brunswick Forest delivers. The 18-hole championship golf course designed by Tim Cate, a native North Carolinian, includes a comfortable and welcoming clubhouse and The Forest restaurant and bar. Coming in at #11 on Golfweek magazine's list of Top Golf Courses in the state of North Carolina, Cape Fear National was recognized for its modern layout and exquisite surroundings of oaks, maples, pines, magnolias, and dune grasses. The course is challenging enough for pros, yet enjoyable for novices, with water features and sand dunes adding to the ambiance. Come, try it out, and learn the secret to conquering the Signature Hole #3 from future friends and neighbors.
Take a peek at Brunswick Forest homes
Autumn is the perfect time to plan a golf weekend get-away in beautiful Wilmington, North Carolina, so don't delay in reserving a spot. Call 888-371-2434 today to book a 3-day/2-night November 7-9 stay for two in luxury accommodations (including access to Cape Fear National and all the delightful amenities at Brunswick Forest) for only $179. Reservations are limited, so book soon. Buy a new home or home site in Cape Fear National that weekend, and receive a free one-year golf membership or credit at Cape Fear National!
Can't make it on November 7th? Ask about their Brunswick Forest Discovery Package.
About Real Estate Scorecard:
Real Estate Scorecard writes unbiased real estate reviews providing in-depth information about popular gated communities in Florida, Georgia, North Carolina, South Carolina and Tennessee, all in an effort to help people discover where to retire in the Southeast.
Website: http://realestatescorecard.com