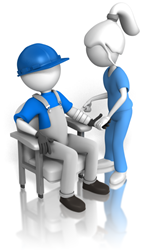 Have a blood pressure and cholesterol test today
Tilbury , Essex (PRWEB UK) 13 October 2014
Asset Chemist in Tilbury is encouraging local residents to have a heart health check during National Cholesterol Month this October.
Pharmacies all over the UK are taking part in the 50 Hearts campaign, and all stores that complete 50 heart health checks during October will be entered into a prize draw. The winning three pharmacies will be rewarded with a cheque to give to a local charity of their choice.
Pharmacist Yomi Adenaike wants the whole community to understand the importance of regularly monitoring blood pressure and cholesterol.
"Having a quick heart health check is a good starting point for anyone wanting to find out how healthy they are. High blood pressure and elevated cholesterol are linked to a number of serious conditions but many people are unaware that they are at risk and are therefore unsure of how to manage this," said Yomi.
"We're urging locals to adopt a healthy habit and are calling on people to drop by and have a quick blood pressure check or cholesterol check with no appointment necessary. People can even pop in on their lunch break for the quick test," said Yomi.
Heart disease remains the number one killer in the UK. Heart UK warns that six out of ten people in the UK have raised cholesterol, leaving them at increased risk of heart attack. According to Blood Pressure UK, approximately one third of people with high blood pressure do not know they have it leaving them three times more likely to develop heart disease.
"If you have high blood pressure or cholesterol we can offer bespoke advice on how to start lowering it by eating more healthily and getting regular exercise," said Yomi. "Everyone that comes in for a check will not only be helping themselves but will be supporting us in reaching our target number of tests to win the cash prize for our local charity."
To take your test visit Asset Chemist, 128 Dock Road, Tilbuty, Essex, RM8 7BJ or for more advice about looking after your heart visit allabouthealth.org.uk.
For further information and to book an appointment, please contact the pharmacy:
Asset Chemist
128 Dock road
Tilbury
Essex
Tel: 01375 846 316
E: customerservice(at)assetchemist(dot)co(dot)uk