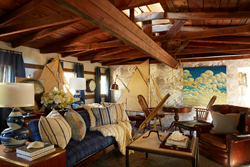 San Francisco, CA (PRWEB) October 10, 2014
San Francisco based interior designer Scot Meacham Wood of Scot Meacham Wood Design presents a dignified hideaway created for a retired seafaring man in search of a space of his own. A stormy color scheme, fantastical atmospheric wallpaper, and larger-than-life antiques allow Meacham Wood to explore the kind of study a dignified captain would want to come home to after a life spent navigating California's rocky coast. Removed from the main house, Meacham Wood's room is located in the Showhouse's Cheese Barn living room, the ideal spot for the designer to express his creative vision for a refined and masculine private space.
To bring his concept to life, Meacham Wood relies on a dark coastal palette of navy, gray, and sand. In addition, he utilizes a mixture of existing architectural features of the space, like exposed rafters, along with ingeniously bringing in hand-built sets to cover historical walls and allow for the application of wallpaper and paint. The result is a room that reflects the Showhouse's historic design and location, while giving Meacham Wood the ability to fully realize his creative vision.
Known for layered designs featuring well-edited collections, Meacham Wood is very much at home with his chosen theme. He takes cues from a collected, New England point of view, and incorporates a range of pieces that speak to a life well-lived on the sea. He curates a mixture of comfortable, handsome furnishings and eye-catching design elements and accessories, including stunning storm-cloud Fornasetti Nuvolette wallpaper from Lee Jofa, abstract "Sky" Painting by Daniel Tousignant of Geras Tousignant Gallery, and impressive seven-foot vintage boat model from Garden Court Antiques.
ABOUT THE SHOWHOUSE
The Napa Valley Showhouse is located at Caldwell Vineyard, situated on a hilltop high above the legendary Napa Valley, 270 Kreuzer Ln, Napa, CA 94559. The Showhouse features a charming Victorian Farmhouse, a beautiful old stone and wood Cheese Barn and an iconic Water Tower complete with 360 degree views of the 123-acre property and surrounding vineyards. The Showhouse is open to the public for six weeks from Sunday, October 12 to Sunday, November 16, Tuesday-Sunday, 10:30-5:00 pm (closed Mondays). Admission to the Showhouse is $30 and includes a taste of one of the Caldwell estate wines. All Showhouse proceeds will benefit the Napa Valley Film Festival.
About Scot Meacham Wood Design
Located on San Francisco's South Park, Scot Meacham Wood Design is a full service interior design firm who prides themselves on designing stunning homes, creating extraordinary style, and giving impeccable service for clients around the country.
Press Website: smw-napashowhouse.com