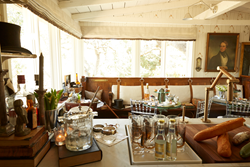 San Francisco, CA (PRWEB) October 13, 2014
San Francisco-based globetrotter, interior designer, publisher, and style connoisseur Jonathan Rachman conjures up a fictional history of the Caldwell Winery ancestors to build a magical feast for the eyes, layering cultures to transform the Cheese Barn and Bath into a Colonial Tasting Room and Master's Bath. Spontaneously smitten with the rustic Cheese Barn, Rachman began to weave a tale of the Caldwells, an English family who sojourned from Great Britain to the Straits of Malacca to explore Singapore, Batavia, and Sumatra during colonial times, before making their home in an inherited Napa winery. Rachman's personal connection to the Caldwell family story is demonstrated in the soulful execution of the space, as the designer himself was born in Sumatra, and raised in Europe before settling in San Francisco.
Rachman's vision for the Cheese Barn's breakfast room is as a tasting room, somewhere the Caldwell family would use to revive guests for a midday treat. Anchored by a spectacular, antique church pew punctuated by the brass plaque reserved for the master of the home, the room pays homage to the Caldwell family's 'history' with a wall of English paintings and family portraits. Vintage lucite chairs cozy up to industrial spindle-turned-bistro tables whose tiered, beveled glass trays are perfect for tastings. A Dutch Javanese colonial cocktail table sits nearby, laden with drinks. The island wears wooden countertops, adorned with an impressive piece of marble, butcher-block style: "I wanted this room to function as a kitchen as well as a communal tasting room where the winery could hold private parties and gatherings," says Rachman. "But I chose for it also to reflect the romantic history of the family."
Rachman's debut fabric collection, Jonathan Rachman for Bolt Textiles, can be seen in the tasting room's one-of-a-kind custom tailored Roman shades and Belgian linen seat cushions - held in place by horse bits and leather straps. Designs include a bold linen stripe, grosgrain ribbon ticking and Javanese block print.
The Master's Bath continues the colonial-meets-Malacca design for the Caldwell family patriarch - his masculine retreat after a day supervising the winery. Color schemes are dominated by the natural verdigris stone and antique copper tub patina, framed by Jonathan Rachman for Bolt Textiles. This bath unmistakably represents an old school gentleman vibe embellished with current comfort, a perfect reflection of Rachman's roots as a designer.
About the Showhouse
The Napa Valley Showhouse is located at Caldwell Vineyard, situated on a hilltop high above the legendary Napa Valley, 270 Kreuzer Ln, Napa, CA 94559. The Showhouse features a charming Victorian Farmhouse, a beautiful old stone and wood Cheese Barn and an iconic Water Tower complete with 360 degree views of the 123-acre property and surrounding vineyards. The Showhouse is open to the public for six weeks from Sunday, October 12 to Sunday, November 16, Tuesday-Sunday, 10:30-5:00 pm (closed Mondays). Admission to the Showhouse is $30 and includes a taste of one of the Caldwell estate wines. All Showhouse proceeds will benefit the Napa Valley Film Festival.
About Jonathan Rachman Design
Born in Sumatra, reared in Paris, and educated in Switzerland and the United States, Rachman brings an international story to his firm. His interiors reflect a thoughtful elegant global style. Besides being the Principal of Jonathan Rachman Design, he is the Editor in Chief of Di Sini Di Sana, a luxury lifestyle publication. Rachman's first fabric line is now available through Bolt Textiles.
Press Website: jonathanrachman-napashowhouse.com