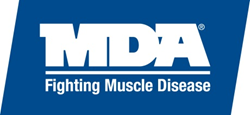 New York, (PRWEB) October 09, 2014
Weekend WCBS New York sportscaster Steve Overmyer will emcee the Muscular Dystrophy Association's 14th annual Wings Over Wall Street event tonight, alongside special guest host from CNBC and cofounder of TradeMONSTER, Jon Najarian.
Wings Over Wall Street is a benefit for MDA to fund research for Amyotrophic Lateral Sclerosis (ALS) - commonly known as Lou Gehrig's Disease. The 2014 MDA's Wings Over Wall Street will take place at Edison Ballroom at 240 West 47th Street from 5:30-9:30. p.m.
Tickets to the event will be available at the door for $300.This year's event will feature a silent auction, raffle and live entertainment from Wall Street Bands including "The Trading Band", "FUN Ghouls," and more.
In its 14th year, MDA's Wings Over Wall Street will be honoring Kim Unger CEO of the Security Traders Association of New York, with the Michael P. Beier award, Dr. Timothy Miller of Washington University's Laboratory of ALS Research with the Diamond Award, and the Dick Carrington Family with the Spirit Award. MDA will also be recognizing Kenneth W. Heath of Trader's Magazine with the Humanitarian Award.
Many leading Wall Street firms and other companies will support MDA's 2014 Wings Over Wall Street, including: Bloomberg, Weeden & Co., Bank of America Merrill Lynch, Credit Suisse, Liquidnet, Guggenheim Partners, CNA, USI Affinity and many more.
The evening will feature a silent auction with unique experiences, art and memorabilia as well as a raffle for a dinner for eight at Le Cirque's exclusive Chef's Table where a $500 wine allowance is also included. Raffle tickets are $100.
ALS is a disease of the motor neurons, the nerve cells that control voluntary muscle movement. In ALS, motor neurons die and the muscles they control — including skeletal muscles and those responsible for speech and breathing — become weak and then paralyzed.
MDA's nationwide network of nearly 200 specialized neuromuscular disease clinics — including 44 designated ALS centers — is the largest in the country and is staffed by top health professionals skilled in the diagnosis and medical management of ALS. In addition, MDA's ALS Division also provides assistance with durable medical equipment, support groups, education programs and much more.
Visit MDA's online ALS Disease Center to learn more about ALS, and how families affected by the disease can count on MDA for information about what matters most: diagnosis, signs and symptoms, medical management, research, clinical trials, health care services and support, and daily living strategies.
Funds have been invested into the most advanced research in the field. MDA's ALS Division, The Eleanor and Lou Gehrig MDA /ALS Center at Columbia University and The Robert Packard Center for ALS Research at Johns Hopkins University continue to make major strides in the pursuit of a breakthrough as a direct result of the support of MDA's Wings Over Wall Street.
For additional information about MDA's 2014 Wings Over Wall Street, please visit wingsoverwallstreet.org, or contact Nicole Dupuis at: 212-682-5272 or ndupuis(at)mdausa(dot)org.
About MDA
The Muscular Dystrophy Association is the world's leading nonprofit health agency dedicated to saving and improving the lives of people with muscle disease, including muscular dystrophy, amyotrophic lateral sclerosis (ALS) and other neuromuscular diseases. It does so by funding worldwide research to find treatments and cures; by providing comprehensive health care services and support to MDA families nationwide; and by rallying communities to fight back through advocacy, fundraising and local engagement.
Visit mda.org and follow us at facebook.com/MDAnational and @MDAnews. Learn more about MDA's mission by watching this video.
-MDA-