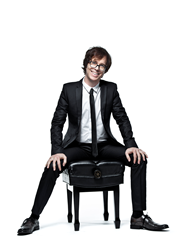 "Yamaha builds some of the finest pianos on the market, and I've found their artist support to be unparalleled," said Ben Folds. "It's a privilege to be part of the global Yamaha family."
Nashville, Tenn. (PRWEB) October 10, 2014
Yamaha Entertainment Group announced the addition of multi-Platinum selling singer, songwriter and producer Ben Folds to the global family of distinguished Yamaha Piano Artists. Yamaha will support and help serve the needs of Folds, who plays a variety of Yamaha Acoustic Grand Pianos, on tour, in the studio and at appearances with piano logistics, promotion and collaboration.
"Yamaha builds some of the finest pianos on the market, and I've found their artist support to be unparalleled," said Ben Folds. "It's a privilege to be part of the global Yamaha family."
While growing up in Winston-Salem, N.C., Folds played percussion in youth orchestras and later attended the University of Miami School of Music as a percussion major. He first found success in 1995 as the leader of the critically acclaimed Ben Folds Five. The group released six albums which featured the hits "Underground," "Kate," "Army," "Brick," "Song for the Dumped" and "Battle of Who Could Care Less."
Folds, 48, went on to an accomplished solo career, recording albums including Rockin' The Suburbs, Songs for Silverman, Way to Normal, Supersunnyspeedgraphic the LP, Fifty-Five Vault and collaborations with Fear of Pop (Fear of Pop), Nick Hornby (University A Cappella!) and (Lonely Avenue) with Amanda Palmer, Damian Kulash and Neil Gaiman.
In 2011, the Ben Folds Five came together to record new songs for The Best Imitation of Myself: A Retrospective, a career-spanning Ben Folds anthology. The group reunited in 2012 for a successful album, The Sound of the Life of the Mind, and tour. And in 2013, they released their first Live album.
Folds, a Nashville resident and a member of the Board of Directors of the Nashville Symphony, has composed an acclaimed 25-minute, three movement concerto for piano and orchestra, which he debuted with the Nashville Symphony Orchestra at the Schermerhorn Symphony Center in March 2014. He performed the concerto again in May with the Symphony and the Nashville Ballet, billed as "The Ben Folds Project." This year, he's been performing the concerto and orchestral arrangements of many of his popular hits with major symphonies before sold out audiences in the United States, Europe, Pacific Rim and Australia.
A member of the prestigious Artist Committee for Americans for the Arts, Folds is an outspoken advocate for music therapy and music education. He has participated in workshops and lobbied Congress for arts funding.
"Not only is Ben Folds such an incredibly talented artist and inspiration to so many musicians, he's a tireless ambassador for music education and music therapy," said Chris Gero, founder and vice president, Yamaha Entertainment Group. "We look forward to supporting Ben as a Yamaha Artist. His experience and dedication will help further Yamaha's commitment to the performing arts and educational community."
Folds' music has been featured on TV and in films including "Hoodwinked!" "Marley & Me," "Jersey Girl," "I Am Sam" and "Over the Hedge." He has made cameo appearances on TV ("Community") and in films ("We're the Millers"), and served as a judge on NBC's a cappella competition "The Sing-Off" for five seasons.
Folds, who performed in April at the Yamaha Corporate Kickoff Concert in Cerritos, Calif., recently rocked the star-studded crowd at the Heifer International Third Annual Beyond Hunger Gala in Beverly Hills. Yamaha was among the sponsors for the event which raised awareness of Heifer's work to eradicate hunger and poverty and help children have access to education.
Yamaha has the proud distinction as one of the most recognized brands and managing more artists relationships than any other music and sound company in the world. Yamaha Entertainment Group works with a roster of international music stars to promote music awareness and education, as well as underscore the breadth and quality of the Yamaha brand.
A partial list of Yamaha artists includes Elton John, Paul McCartney, Barry Manilow, Jackson Browne, Alicia Keys, John Legend, Luke Bryan, Josh Groban, Michael McDonald, Sarah McLachlan, Dave Haywood of Lady Antebellum, Zac Brown, Graham Nash, Dave Koz, Rodrigo y Gabriela, Robin Thicke, David Foster, Nathan East, Chick Corea, Jason Mraz, Sara Bareilles, Richard Marx, Mindi Abair, Jon McLaughlin, Ingrid Michaelson and Lindsey Stirling.
-END-
About Yamaha Entertainment Group
Yamaha Entertainment Group of America is a boutique, one-stop shop, record label developed to be the champion of the musician with the backing power of the largest music manufacturer in the world. Yamaha Entertainment Group is branding, promotion, concert production, content development, product placement, tour support, piano logistics and artist relations, all rolled into one. Home to more than 3,600 talented artists, Yamaha Entertainment Group is responsible for the development and advancement of the Yamaha brand name through numerous artist related activities worldwide.
Visit http://www.Yamaha.com/Artists and http://www.YamahaEntertainmentGroup.com
About Yamaha Corporation of America
Yamaha Corporation of America (YCA) is one of the largest subsidiaries of Yamaha Corporation, Japan and offers a full line of award-winning musical instruments, sound reinforcement and home entertainment products to the U.S. market. Products include: Yamaha acoustic, digital and hybrid pianos, portable keyboards, guitars, acoustic and electronic drums, band and orchestral instruments, marching percussion products, synthesizers, professional digital and analog audio equipment, Steinberg recording products and Nexo commercial audio products, as well as AV receivers, amplifiers, Blu-ray/CD players, iPod docking systems, home-theater-in-a-box systems, earphones, headphones, sound bars, and its exclusive line of Digital Sound Projectors. YCA markets innovative, finely crafted technology and entertainment products and musical instruments targeted to the hobbyist, education, worship, professional music, installation and consumer markets.
For more information on Yamaha Entertainment Group, please contact
Yamaha Entertainment Group
Athena Patterson
apatterson(at)yamaha(dot)com
714.228.3317 – 615.599.0800 x 3317 – 615.414.7637 CELL
For more information on Ben Folds, please contact
Big Hassle Media
Ken Weinstein
weinstein(at)bighassle(dot)com
212.619.1360