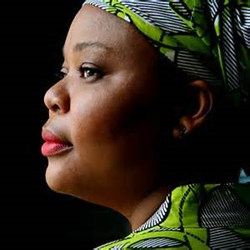 ...transforming violence into peace.
Aliso Viejo, CA (PRWEB) October 13, 2014
2011 Nobel Peace Laureate, Leymah Gbowee, and international law professor, Karima Bennoune, will be speaking at the Soka Performing Arts Center on Wednesday, October 29, at 7 p.m. on the topic "Outrageous Acts of Peace: The role ordinary people must play in transforming violence to peace." General admission for the public is $8 for adults, and $6 for students and seniors. Tickets are available at http://www.performingarts.soka.edu.
Featured in the award winning documentary, Pray the Devil Back to Hell, Gbowee is best known for organizing a movement of Christian and Muslim women in Liberia, who, in the midst of a decades long and violent civil war, took on the corrupt regime and demanded peace for their shattered county. The demonstrations culminated in the exile of the unscrupulous leader, and the election of the first female head of state in Africa since Cleopatra.
Gbowee will be in conversation with Bennoune, author of Your Fatwa Does Not Apply Here: Untold Stories from the Fight Against Muslim Fundamentalism. Bennoune's TED talk about these courageous citizens has been seen by over 1 million people. (Link: http://bit.ly/1s2ppbe)
The women will share their stories, as well as commentary on critical current events such as the Ebola crisis and violence resulting from global terrorism. In addition to discussion, the audience will learn how we each can be better citizen peacekeepers.
Soka University is offering to reimburse transportation costs and provide free tickets to organized high school groups of 30 or more sophomores and juniors who pre-register. For more information, contact changemakers(at)soka(dot)edu.
Soka University's Soka Changemakers program is coordinating the lecture and is grateful for the partnership by the Orange County Register. Soka Changemakers connects students and the community to the people, ideas and organizations that change the world for good.
Soka University is a private, four-year liberal arts college and graduate school in Aliso Viejo, CA. It is ranked in the top 50 liberal arts colleges in the nation by US News and World Report's "Best Colleges 2015." Founded upon the Buddhist principles of peace, human rights and the sanctity of life, SUA is open to top students of all nationalities and beliefs. Admitted students whose annual family income is $60,000 or less may be eligible for Soka Opportunity Scholarships which cover full tuition. Additional scholarship opportunities are available for higher income levels.