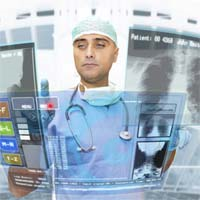 Visual assessment of pleural pointillism on high-b-value DW images...might obviate unnecessary invasive procedures.
Raleigh, NC (PRWEB) October 13, 2014
Belgian scientists say a new method of reading MRI images may eventually replace the need for surgical biopsies in some patients with malignant pleural mesothelioma. Surviving Mesothelioma has just posted a new article on the study. Click here to read it now.
A multidisciplinary team of doctors from the University Hospitals Leuven in Leuven, Belgium say looking for what is called "the pointillism sign", clusters of bright spots on diffusion-weighted (DW) MRI images, is a more accurate way to identify mesothelioma than looking for either lung shrinkage or pleural thickening.
"Visual assessment of pleural pointillism on high-b-value DW images is useful to differentiate malignant pleural disease from benign alterations [and] might obviate unnecessary invasive procedures for malignant pleural mesothelioma," reports study author Dr. Johan Coolen.
The study, published in the journal Radiology, found that the pleural pointillism approach produced accurate diagnoses in 88% of the suspected mesothelioma cases, compared to just 78% with pleural thickness evaluation and 66% with lung shrinkage.
"Because mesothelioma is such an aggressive cancer, fast, accurate diagnosis is vital for the best outcomes," says Alex Strauss, Managing Editor for Surviving Mesothelioma. "A technique that could potentially not only improve the process, but do so in a less invasive way, could be very good news for patients and families."
To learn more about the new study and its possible implications for mesothelioma patients, see Mesothelioma Diagnosis: Could a New Way of Reading MRIs Replace Surgical Biopsy? now available on the Surviving Mesothelioma website.
Coolen, J et al, "Malignant Pleural Mesothelioma: Visual Assessment by Using Pleural Pointillism at Diffusion-weighted MR Imaging", September 19, 2014, Radiology, Epub ahead of print. http://www.pubfacts.com/detail/25243538
For nearly ten years, Surviving Mesothelioma has brought readers the most important and ground-breaking news on the causes, diagnosis and treatment of mesothelioma. All Surviving Mesothelioma news is gathered and reported directly from the peer-reviewed medical literature. Written for patients and their loved ones, Surviving Mesothelioma news helps families make more informed decisions.