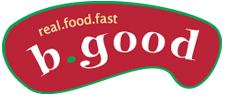 Boston, Mass. (PRWEB) October 10, 2014
Changing the landscape of Boston's fast-casual restaurant scene, b.good was named the 2014 Small Business of the Year by The Greater Boston Chamber of Commerce. The Boston-based restaurant was honored yesterday during a ceremony at the Sheraton Boston Hotel. Now in its 30th year, The Greater Boston Chamber of Commerce's Small Business Awards honor some of Boston's small, high-growth businesses. The awards are given to companies that demonstrate acheivement in management, workplace excellence, product innovation, social responsibility, and have a commitment to growing in Greater Boston.
"From the beginning, we've focused on building a business that makes our communities better," said Jon Olinto, co-founder of b.good. "Our priority is to not only give our customers healthier options, but tell them the story of how their food is made, what's in it, and where it comes from. We're honored to be recognized by The Greater Boston Chamber of Commerce for our efforts both in and outside of our restaurants."
With a decade of experience in rethinking the concept of fast-food, b.good educates its customers on how eating real food makes life better. Customers can enjoy fresh produce from the rooftop garden at b.good's Washington Street location and vegetables that rotate seasonally to correspond with harvests from local farms. In addition to providing the community with a source for wholesome food, b.good also provides its fresh, natural burgers to numerous public schools in Massachusetts.
To give back, b.good launched its Family Foundation in 2013 to award micro-grants that enable individuals to make a positive change in their own communities. From running the Boston Marathon in giant burger suits to allowing customers to donate food through its mobile app, b.good is on a mission to help real people with great ideas do good.
The Small Business of the Year Awards sheds a light on businesses with a greater purpose than simply making a profit. B.good has donated more than $300,000 in free food from customer contributions and has raised more than $70,000 for local charities through its innovative community outreach initiatives.
For more information about b.good, please visit: http://bgood.com/.
###
About b.good:
Established in 2004, b.good is a fast-service restaurant that is committed to making fast food real. B.good proudly serves food made by people, not factories with menu items including: kale& quinoa bowls, seasonal salads, smoothies made with local produce, hand-ground burgers, and hand-cut fries. Combining healthy and wholesome food with innovative community outreach initiatives, b.good tells a story of how good food can make lives better.
http://www.bgood.com