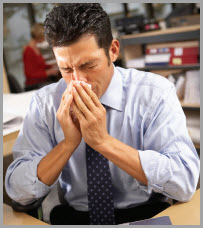 San Rafael (PRWEB) October 09, 2014
It's hard to think of this as the start of cold and flu season with regular beautiful warm days in the Bay Area, but October is typically when the year's flu vaccine starts to be recommended at medical offices and pharmacies.
Offering an additional way to potentially avoid illness, Breathing Retraining Center is holding two Healthy Breathing Habits weekend classes this Fall.
"Our courses really hammer the importance of nasal breathing as opposed to breathing with your mouth, to keep the germs out," says Lisa Bowen, a breathing educator who teaches the course.
"When you breathe through your mouth, the air goes straight down to the lungs, bugs and all," she says. "The nose's whole job is to process incoming air. The hairs and membranes of the nose filter particles that shouldn't enter the body, and nose breathing even facilities the production of nitrous oxide, which sterilizes the air on the way to the lungs."
The last two Healthy Breathing Habits classes of this year will be held on October 18-19 and November 15-16 in San Rafael.
Even people who regularly breathe with their noses can slip into mouth breathing when they talk, eat and exercise, Bowen says. "So many people don't realize they're doing it. We practice how to avoid that, by slowing down, which is actually a gift to yourself, not to rush everything."
People who have come to the Fall classes in the past are those who really want to avoid pesky colds -- people with asthma, allergies and other respiratory conditions, Bowen says.
Check out other reasons in support of nasal breathing at http://www.breathingretrainingcenter.com/blog/28-reasons-to-nose-breathe.
Breathing Retraining Center LLC also offers a self-paced, online nasal breathing class.
All 10 healthy breathing habits are listed at http://www.breathingretrainingcenter.com/the-10-healthy-breathing-habits.php.