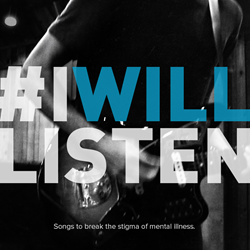 New York, NY (PRWEB) October 10, 2014
Mental illness is the most stigmatized condition in our country, and 1 in 4 Americans will experience a mental health disorder in any given year. In order to enact real social change and break down the stigma associated with mental illness, the National Alliance on Mental Illness of New York City (NAMI-NYC Metro) has empowered people through a campaign with three simple words – I WILL LISTEN.
Listening is a powerful way to support friends, family members, colleagues and others who feel isolated by their illness. Rather than putting the pressure on the 1 in 4 who are living with mental illness, the #IWILLLISTEN campaign targets the 4 in 4 who can play an active role in reducing the stigma of mental illness.
On Oct.10, World Mental Health Day, NAMI-NYC Metro will launch the next step in its #IWILLLISTEN awareness campaign with the release of the #IWILLLISTEN album, followed by a live concert on Oct. 20 at the famed Mercury Lounge.
Partnering with New York-based bands and artists including Controller, Sweet Lorraine, Boola featuring Jeni Fujita, Jenna Kyle and Romans Are Alive, the album is comprised of songs penned by each artist for #IWILLLISTEN about their experiences either directly or indirectly with mental illness. All songs were recorded in the world-famous Avatar Studios in New York City with significant support from KBV Records on production and distribution.
"Music is an extraordinary element to add to #IWILLLISTEN and an apt metaphor for the campaign," said Wendy Brennan, Executive Director of NAMI-NYC Metro. "When we listen to music, it can transform us, connect us and inspire us. The aim of the #IWILLLISTEN campaign is to inspire individuals to make the pledge to listen, without judgment, and to connect to those impacted by mental illness. Through the act of listening we can break the stigma and begin to transform lives. Our hope is that through this original EP, we will inspire thousands to take the pledge to listen."
Timed with Mental Illness Awareness Week and World Mental Health Day, the #IWILLLISTEN album will be available for free download starting Oct. 10 on iwilllisten.org. Those who download the album can also make the pledge to listen and make a donation to NAMI-NYC Metro. A digital booklet, which includes photography by the legendary rock photographer Danny Clinch, is included in the download and gives a behind-the-scenes look at the making of the album and backstory behind each song, as well as lyrics. The album will also be available for purchase and free streaming (with proceeds going to NAMI-NYC Metro) on digital music stores like iTunes, Amazon Music, Google Play, Spotify, Xbox Music, Rhapsody, iHeartRadio and more.
The campaign also includes 30- and 10-second PSAs that will be distributed across CBS affiliate radio stations.
"Partnering with NAMI-NYC Metro on this campaign has been profoundly meaningful for J. Walter Thompson and everyone else involved," said Howard Lenn, Group Creative Director at JWT New York. "The songs on this album really take the #IWILLLISTEN cause to a new emotional level, helping people understand the impact of living with a mental illness and inspiring them to listen to their friends and family."
In a nod to the #IWILLLISTEN campaign's mission to turn the world's biggest social networks into the largest support networks, a surprise stunt at the Oct. 20 Mercury Lounge concert will engage guests and drive social activity. For more information on how to attend the concert, please visit the events section of iwilllisten.org for details.
Mental illness is the most stigmatized condition in our country. According to a recent survey by JWT SONAR, mental illness ranks above alcoholism, sexual orientation and obesity when it comes to stigmatization. Only 13 percent of Americans feel it is OK to tell their coworkers about their mental health concerns and less than half, only 43 percent, feel comfortable discussing the topic with their closest friends. The silence surrounding mental illness is pervasive and acts as a barrier to accessing quality treatment.
Since its launch last fall, the #IWILLLISTEN movement has become a beacon for the mental health community – rallying organizations, campuses and corporations nationwide.
You can learn more about the #IWILLLISTEN campaign at http://naminyc.iwilllisten.org/
About NAMI-NYC Metro
The National Alliance on Mental Illness of New York City, Inc. (NAMI-NYC Metro) is a grassroots organization that provides support, education, and advocacy for families and individuals of all ethnic and socioeconomic backgrounds who live with mental illness. As the largest affiliate of the National Alliance on Mental Illness, we work collaboratively with our state and national affiliates, and with other stakeholders in the community, to educate the public, advocate for legislation, reduce stigma, and improve the mental health system.
About JWT
JWT is the world's best-known marketing communications brand that has been inventing pioneering ideas for the past 150 years. Headquartered in New York, JWT is a true global network with more than 200 offices in over 90 countries, employing nearly 10,000 marketing professionals. JWT consistently ranks among the top agency networks in the world and continues a dominant presence in the industry by staying on the leading edge—from producing the first-ever TV commercial in 1939 to developing award-winning branded content today. For more information, please visit http://www.jwt.com and follow us @JWT_Worldwide.