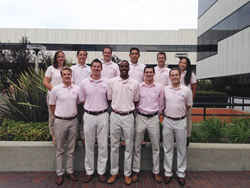 Think Pink is one of 24Hr HomeCare's most important and successful awareness campaigns
Los Angeles, CA (PRWEB) October 13, 2014
24Hr HomeCare, a leading in-home care provider based in Los Angeles, will sponsor its 4th Annual Breast Cancer Awareness campaign, Think Pink, this October. During Think Pink, 24Hr HomeCare promotes breast cancer awareness through education and raises funds for research on the disease which, according to the American Cancer Society, currently affects one in eight American women.
Throughout Think Pink, 24Hr HomeCare employees will, instead of their trademark blue polo shirts, wear pink polos to show support for the patients, friends, and families impacted by breast cancer. Whenever someone inquires about the polo, 24Hr HomeCare will donate $1.00 to the American Cancer Society, a nonprofit dedicated to curing cancer. Additionally, 24Hr Homecare will donate 3% of gross proceeds from all new clients in the month of October to the organization.
In conjunction with these efforts, 24Hr HomeCare will also launch an online Think Pink campaign. The company website will be redesigned in pink, in line with the campaign, and 24Hr HomeCare will rally support for breast cancer efforts through a social media photo challenge.
"Think Pink is one of 24Hr HomeCare's most important and successful awareness campaigns," says owner and cofounder, Ryan Iwamoto, "Breast cancer touches the lives of so many people – our friends, family, and community members. This campaign is a way for us to honor these individuals and hopefully have a positive impact in the fight against it as well."
24Hr HomeCare is committed to supporting its community and worth-while causes through its Proceeds to Charity Program. Since the program's creation in 2008, 24Hr HomeCare has donated over $81,000 to organizations such as the American Cancer Society, American Diabetes, Alzheimer's Association, and other nonprofit associations. Founded on the principle of helping others, 24Hr HomeCare also sponsors annual Alzheimer's and Multiple Sclerosis walks; bone marrow and blood drives; Movember, a month-long men's health awareness campaign; and a number of research conferences to improve the quality of care for those suffering from these ailments.