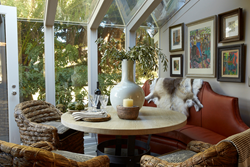 San Francisco, CA (PRWEB) October 13, 2014
Truckee and Lafayette, California based design team Catherine and Justine Macfee of Catherine Macfee Interior Design take inspiration for the Showhouse's kitchen and terrace from the historical charm of the Caldwell Vineyard home. To honor the lineage of the farmhouse, the Macfees dream up a homeowner who is passionate about the history and old world charm of her kitchen, while infusing fresh, artisan details that create a welcoming culinary space. Working with master craftsmen the Macfees use handmade details and playful design to create an inspired space truly fit for luxury lifestyle living.
To create a retreat kitchen that functions equally well as a foodie haven and as a communal gathering space, the Macfees curated a charming collection of luxe vintage accessories, eye catching handmade pieces, and high end appliances. To make the most of a narrow kitchen with spectacular vineyard views, the Macfees apply a Hermes-inspired orange hue by C2 Paints to the interior of the original kitchen cabinetry, using the luxury label inspired color as a dramatic foil to the lush greenery and ripe grapes, creating a visual pop fit for a region that has a penchant for tasteful non-conformity and adeptness of intrinsic style. Custom, handmade pieces add depth to the kitchen by showcasing the importance of fine craftsmanship in luxury design. Details include a handmade ironwork hood and metal mesh pantry doors and leather bench seating, all designed by Catherine Macfee Custom Design, and hand painted matte black and white tile backsplash from Country Floors. Rustic Havana Chairs from Catherine Macfee Interior Design private label Rubicon Collection, and a poppy Moroccan rug from Catherine Macfee Interior Design private collection, perfectly represent the Macfee's stylish personality. A hanging lantern from Paul Ferrante acts as the focal point of the kitchen, as does a stunning and substantial piece of hand chiseled, two-inch thick limestone countertop from Wheeler Zamaroni. Hand painted floors by Matt Vannoy, Nor Cal Floor Design are a whimsical finishing touch.
Outside on the terrace pots of herbs are only steps away from being incorporated in a fabulous meal. In collaboration with Sonoma Country Antiques, the Macfees are styling the outdoor living space with the organic chef in mind. Truly an extension of the owner's pantry, the outdoor space will feature fresh produce growing among an eclectic mix of found furnishings, including a large mirror created from a repurposed European traffic sign, two vintage zinc factory trolleys, and a stunning one-of-a-kind tree trunk chair.
About the Traditional Home Napa Valley Showhouse
The Napa Valley Showhouse is located at Caldwell Vineyard, situated on a hilltop high above the legendary Napa Valley, 270 Kreuzer Ln, Napa, CA 94559. The Showhouse features a charming Victorian Farmhouse, a beautiful old stone and wood Cheese Barn and an iconic Water Tower complete with 360 degree views of the 123-acre property and surrounding vineyards. The Showhouse is open to the public for six weeks from Sunday, October 12 to Sunday, November 16, Tuesday-Sunday, 10:30-5:00 pm (closed Mondays). Admission to the Showhouse is $30 and includes a taste of one of the Caldwell estate wines. All Showhouse proceeds will benefit the Napa Valley Film Festival.
About Catherine Macfee Interior Design
Catherine Macfee Interior Design is a full service design firm specializing in high-end residential and select boutique commercial projects. The award winning firm practices authentic and quality design with an eclectic and vibrant approach to Mountain, Coastal, Country, and Ranch lifestyles.
Press Website: catherinemacfee-napashowhouse.com