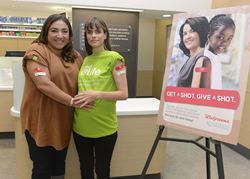 Los Angeles (PRWEB) October 09, 2014
Amanda Peet and Jo Frost joined forces today at the Los Angeles Walgreens Flagship store in Hollywood to support children around the globe through the Get a Shot. Give a Shot® campaign. Peet and Frost, who both serve as Global Advocates for the UN Foundation's Shot@Life campaign, rallied Americans to get their flu shots at Walgreens this season promoting health and providing life-saving vaccines to children in developing nations.
For a second year Walgreens has partnered with the UN Foundation to donate one life-saving vaccine for every immunization administered at a Walgreens location*. Frost and Peet both received immunizations in front of an audience of Shot@Life supporters.
"Last year, I traveled to Kenya with the Shot@Life campaign and witnessed firsthand the devastation that diseases like polio and measles have on our world's youngest citizens," said Peet. "Through this partnership with Walgreens, the UN Foundation will be able to deliver millions of life-saving vaccines to developing nations who just want to give their children an opportunity to see their fifth birthday."
Frost, global parenting expert, best selling author and television star most recognized for her firm but respected techniques on "Supernanny," recently released her seventh book; "Jo Frost's Toddler Rules: Your 5-Step Guide to Shaping Proper Behavior" and joined the Shot@Life campaign earlier this year after being moved by her work with families around the world.
"All children deserve a shot at a healthy, happy life," said Frost. "If getting your flu shot, or any of your immunizations, will provide a life-saving vaccine to a child in need then I will be first in line! Children around the world are dying from vaccine preventable diseases- that is something we all need to stand up for."
Around the globe, every 20 seconds a child dies from a vaccine preventable disease like measles or pneumonia. The United Nations Foundation's Shot@Life campaign helps further the work of the United Nations to expand access to these life-saving vaccines. To learn more about the UN Foundation's Shot@Life campaign, visit http://www.shotatlife.org. To learn more about the Get a Shot. Give a Shot® campaign in partnership with Walgreens, visit http://www.walgreens.com
*Applies to all vaccines administered Sept. 2 through Oct. 13, and all non-flu vaccinations beginning Oct. 14, up to 6 million.
###
About Walgreens
As the nation's largest drugstore chain with fiscal 2013 sales of $72 billion, Walgreens (http://www.walgreens.com) vision is to be the first choice in health and daily living for everyone in America, and beyond. Each day, in communities across America, more than 8 million customers interact with Walgreens using the most convenient, multichannel access to consumer goods and services and trusted, cost-effective pharmacy, health and wellness services and advice. Walgreens scope of pharmacy services includes retail, specialty, infusion, medical facility and mail service, along with online and mobile services. These services improve health outcomes and lower costs for payers including employers, managed care organizations, health systems, pharmacy benefit managers and the public sector. The company operates 8,192 drugstores in all 50 states, the District of Columbia, Puerto Rico and the U.S. Virgin Islands. Walgreens digital business includes Walgreens.com, drugstore.com, Beauty.com, SkinStore.com and VisionDirect.com. Take Care Health Systems is a Walgreens subsidiary that manages more than 400 in-store convenient care clinics throughout the country.
About Shot@Life
Shot@Life, a campaign of the United Nations Foundation, educates, connects and empowers Americans to help protect children in developing countries from vaccine-preventable diseases like measles, pneumonia, diarrhea and polio. By joining this movement, you can help save a child's life every 20 seconds by learning about, advocating for and donating vaccines to children who need them most. Go to ShotAtLife.org to learn more.
About The United Nations Foundation
The United Nations Foundation builds public-private partnerships to address the world's most pressing problems, and broadens support for the United Nations through advocacy and public outreach. Through innovative campaigns and initiatives, the Foundation connects people, ideas, and resources to help the UN solve global problems. The Foundation was created in 1998 as a U.S. public charity by entrepreneur and philanthropist Ted Turner and now is supported by global corporations, foundations, governments, and individuals. For more information, visit http://www.unfoundation.org.