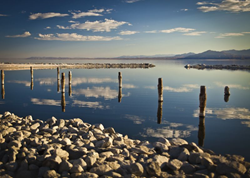 Rancho Mirage, CA (PRWEB) October 10, 2014
The Greater Palm Springs Convention & Visitors Bureau (CVB) and Assemblyman Brian Nestande will be kicking off a campaign to market and sell 7,500 Salton Sea specialty license plates to Coachella Valley residents and throughout California. A new website for the campaign will also be unveiled. Assemblyman Nestande's bill to create the Salton Sea license plate was recently signed into law by Governor Brown.
California law requires 7,500 people to sign up to buy a specialty license plate in the first year of its introduction before the plate can be produced and placed on vehicles around the state. The Greater Palm Springs CVB will be working in partnership with the Salton Sea Authority to reach this goal so the Salton Sea plate becomes a reality.
Proceeds from the sale of the plate will assist in the funding of the restoration of the Salton Sea. The design for the license plate was created by a Palm Springs High School student who was the winner of a contest held recently by Assemblyman Nestande, The Desert Sun and the Palm Springs Art Museum.
Event: Salton Sea License Campaign Kickoff
Date: Tuesday, October 14, 2014
Time: 10:00 a.m.
Location: The Greater Palm Springs Convention & Visitors Bureau, Conference Room
70100 Highway 111
Rancho Mirage, CA 92270
Speakers:
Scott White, CEO Greater Palm Springs Convention & Visitors Bureau
Brian Nestande, State Assemblyman
John Benoit, Riverside County Board of Supervisors and Salton Sea Authority Board Member
If you plan to attend, please RSVP to: Joyce Kiehl, Greater Palm Springs CVB Media Relations Manager, jkiehl(at)palmspringsoasis(dot)com.
Media packets and information available at event or upon request.