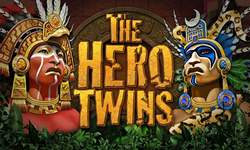 Las Vegas, Nevada (PRWEB) October 10, 2014
The Hero Twins™ transcends the story of The Hero Twins, an ancient Mayan myth of brothers who battle the lords of the underworld.
This 25-Line game utilizes the patent-pending Spin Builder™ feature developed by Genesis Gaming. When a player has a non-winning spin, the Spin Builder meter will build. When the meter fills, an extra Free Spin will be added to the meter. Players can then choose to activate these free spins at any time, letting them build up or playing them immediately as they are awarded.
The Hero Twins is expected to launch in 2015.
About Genesis Gaming, Inc.
Genesis Gaming, Inc. is a key supplier of video slot games to the most prominent manufacturers and operators in the casino industry. Genesis has built its reputation on providing gambler-focused games that maximize revenue, published across multiple channels of delivery: land-based, online social, online real-money, and mobile. Genesis provides its games across the widest range of iGaming platforms in the industry. More information on Genesis can be found on http://www.gen-game.com. Spin Builder is a trademark of Genesis Gaming, Inc.
About IGT
IGT is a global leader in casino gaming entertainment and continues to transform the industry by translating casino player experiences to social, mobile and interactive environments for regulated markets around the world. IGT's acquisition of DoubleDown Interactive provides engaging social casino style entertainment to approximately 6 million players monthly. More information about IGT is available at IGT.com or connect with IGT at @IGTNews or facebook.com/IGT. Anyone can play at the DoubleDown Casino by visiting http://apps.facebook.com/doubledowncasino or doubledowncasino.com
The Hero Twins, Ascent, Multi-Layer Display and MLD are trademarks and registered trademarks of IGT.