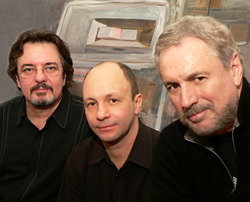 Fort Lauderdale, FL (PRWEB) October 09, 2014
South Florida's premier modern jazz organization is privileged to feature The Brazilian Trio (a.k.a. Trio Rio). Two-thirds of the band comprises the renowned Trio da Paz. This concert takes place at the 500-seat Rose & Alfred Miniaci Performing Arts Center on the Nova Southeastern University campus, 3100 Ray Ferrero, Jr Blvd in Davie 33314. Tickets are $40 and $15 for students under age 25 with I.D.) and may be purchased from Ticketmaster or http://southfloridajazz.org, the presenting organization's official website.
Born in São Paulo, pianist Helio Alves played classical and Brazilian pop as teen, but studied at Berklee School of Music in Boston, where he met Claudio Roditi, which began a long-term relationship with the trumpet master. Helio also has performed and recorded with Paquito D'Rivera, Gato Barbieri, Airto Moreira, Flora Purim, John Patitucci, Al Foster, Leny Andrade, The Caribbean Jazz Project, Oscar Castro-Neves, Yo-Yo Ma, Hendrik Meurkens, and the list does go on. In 1995 he joined Joe Henderson's Double Rainbow Quartet, playing the music of Jobim. He simply is known as "the pianist" in Brazilian jazz circles. His debut album, Trios, featuring John Patitucci and Al Foster, was released in 1999. His 2010 CD, Musica, is dazzling. It features guest appearances by Roditi and Trio da Paz guitarist Romero Lubambo.
Nilson Matta, also born in São Paulo, has long been considered one of the greatest bass players in the world and since his arrival in New York in 1985 he has become the first-call of many of the top US musicians. He remains a legend in Brazil. He is classically trained and as at home playing with Yo-Yo Ma as with saxophonist Joe Henderson, who was forever changed after visiting Brazil. They had an extended musical relationship. Matta is also well known for his teaching ability, which has been showcased in different settings throughout The United States and Brazil. Nilson gives private lessons to young bassists in addition to his world-renowned master classes. He has been teaching at Litchfield Jazz Campus and is a faculty member and director of "Samba meets Jazz" in Bar Harbor, Maine.
Duduka DaFonseca, a Brazilian jazz icon, grew up in the Ipanema neighborhood of Rio de Janeiro and began to teach himself drums at age 13. After leading bands in Brazil, he immigrated to New York with the notion of blending the Brazilian musical culture with American jazz. He immediately gave authenticity to the bossa nova and samba movement in the U.S. in the late 1970s. He has appeared on more than 200 albums with the best American and Brazilian musicians and is the busiest Brazilian-born drummer on two continents. He has a masterful time feel that propels every band, including Trio da Pas and Brazilian Trio, in both of which he is a founding member.
For tickets and additional information visit: http://www.SouthFloridaJazz.org.