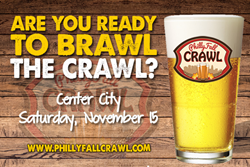 Voorhees, NJ (PRWEB) October 11, 2014
Revolution Events proudly announces the return of the Philly Fall Crawl on Saturday, November 15. This is the second year the bar crawl will be held in Center City Philadelphia and runs from 12pm to 8pm featuring twelve of the best downtown bars.
Participants will enjoy drink and food specials with their admission ticket as well as a t-shirt and other giveaways. The event is completely self-paced and crawlers can visit any of the participating bars within the 8-hour timeframe and in any order they choose. "One of the great features of this event is you're walking around Philly during the Fall," states Christian Blasberg, the event's organizer, "While walking between bars, you pass some of downtown's greatest features like Love Park, Reading Terminal, Rittenhouse Square and more."
The bar crawl allows participants to sample many of Center City's favorite bars while many of the participants aim to tackle as many of the bars as they can before the event ends. "Our theme this year is 'Are you ready to brawl the crawl?'," adds Blasberg. "We want the event to be fun and encourage crawlers to visit as many locations as they can."
Last year the event attracted close to 1,000 participants from eleven states. Early projections suggest that the event will increase this year with crowds closer to 2,000 people. "It's a great time of year to come visit the city – Halloween has passed and the holiday craziness has not hit yet," indicates Kyle Killian, another one of the event's organizers, "People just want to relax and enjoy time with their friends and family while taking in the city's atmosphere."
The event is open to anyone age 21 years or older. Tickets can be purchased online at http://www.phillyfallcrawl.com before November 14 for $20/person or at the event for $25/person.
Revolution Events is a DBA of Vontrinity, LLC located in Voorhees, NJ. Revolution Events hosts the annual Philly Fall Crawl in Center City as well as other bar crawls including Camo Crawl and Pajama Pour in the Philadelphia region.
Having participated in several bar crawls previously over the years, Christian Blasberg, owner and operator, decided to take the plunge and create one in Philadelphia taking advantage of the abundance of bars, large population of people and colleges, and easy-to-access mass public transportation.
Revolution Events produces events in New Jersey, Pennsylvania, and Delaware.
For more information contact us at 856-261-2325 or info(at)phillyfallcrawl(dot)com