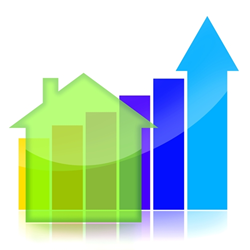 As mortgage interest rates have remained near historical lows, many homeowners have had the opportunity to reduce their housing costs
Chicago, IL (PRWEB) October 09, 2014
The Federal Savings Bank noted the latest weekly application survey from the Mortgage Bankers Association which revealed a rise in home loan applications for the week ending Oct. 3.
The Market Composite Index, which tracks applications, rose 3.8 percent on a seasonally adjusted basis week over week. There was a 4 percent unadjusted increase. These gains followed two weeks of declines, according to Consumer Affairs, indicating renewed vigor among mortgage-dependent home buyers.
The Purchase Index pulled ahead 2 percent on a seasonally adjusted basis week over week in the week ending Oct. 3, bringing application volume to its highest level since July. On an unadjusted basis, the index also improved 2 percent. Michael Fratantoni, chief economist for the MBA, said this index's growth was the result of a 3.7 percent bump in government purchase volume during the week, CNBC reported on Oct. 8.
Refinance activity posted biggest gain
In the week ending Oct. 3, the Refinance Index pulled ahead 5 percent compared to the previous week, according to the MBA data. Refinance applications remained at 56 percent of total applications.
As mortgage interest rates have remained near historical lows, many homeowners have had the opportunity to reduce their housing costs, according to The Mortgage Reports on Sept. 26. One popular loan option has been financing guaranteed by the U.S. Department of Veteran's Affairs, particularly the advantages offered by VA streamline refinance rates.
Mortgage rates declined
The MBA report noted a drop in mortgage rates for 80 percent loan-to-value home loans in the week ending Oct. 3 in addition to improvements for application volume. Here are the key findings:
The average contract interest for a 30-year fixed U.S. Federal Housing Administration mortgage was 4.00 percent, down from 4.07 percent the previous week.
Thirty-year fixed conforming loans with a balance of $417,000 or less had an average rate of 4.30 percent, a drop from 4.33 percent.
Jumbo loans with a fixed rate and 30-year term experienced a decline from 4.28 percent to 4.21 percent.
Fifteen-year fixed mortgages had an average interest rate of 3.48 percent, down from 3.55 percent the previous week.
Interest rates to remain affordable
Rates have been at historical lows for some time, and it will be a while before they significantly rise, according to the Federal Reserve Bank. The Federal Open Market Committee met in September, and notes from that meeting were released yesterday on Oct. 8. Although the Fed is going to finish tapering its monthly bond-buying program at the end of October, it does not plan to adjust the federal funds rate, which would raise interest rates.
"The committee continues to anticipate, based on its assessment of these factors, that it likely will be appropriate to maintain the current target range for the federal funds rate for a considerable time after the asset purchase program ends, especially if projected inflation continues to run below the committee's 2 percent longer-run goal, and provided that longer-term inflation expectations remain well anchored," the FOMC said.
Contact the Federal Savings Bank, a veteran owned bank, to learn about get a VA loan refinance while interest rates are favorable.