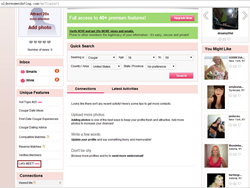 (PRWEB) October 10, 2014
The older women and younger men dating site OlderWomenDating.com, has announced a new feature, "Let's Meet", which will help its users to find more matches. "Let's Meet" is the online dating equivalent of Cupid using a rapid-fire bow: The feature uses geographic proximity to rapidly connect to other singles by quickly selecting "yes", "no", or "maybe". Those who respond that they are "Mutually Interested" can begin dialogue to make arrangements to meet in person.
Henry, the leader of OlderWomenDating.com, says of the new feature, "We are very excited to announce this new feature. Let's Meet will help our users to find potential matches more quickly, so that they are able to start taking their relationships from the Internet into the real world and, hopefully, find their special person."
Henry adds, "Nothing makes us happier than hearing that our users fell in love, started dating, got married, or decided to spend their lives together. We can't wait to hear the new stories from our users that we believe Let's Meet will bring about. OlderWomenDating.com is particularly excited about the low-pressure nature of this feature, and we believe that users who are shyer than others will have an easier time reaching out to people who interest them."
This new feature will increase engagement amongst the user base—which grows by hundreds of members each day—in a pressure-free way, increasing the likelihood of meeting "The One" or just meeting a cougar or cub who is looking to play. OlderWomenDating.com offers a number of features not offered by other online dating websites, including niche dating, a 24/7 support team, a live cougar dating counselor on call at all times of the day, and member verification. Other features include: successful dating advice and safety tips, cougar date ideas, and a forum to share experiences with and ask questions of other users.
New users are able to sign up for free, which includes: the ability to create a profile with up to 26 photos, search users by geographic region, create a favorites list, send unlimited winks, and respond to emails sent by the site's Gold members. Gold members are able to utilize additional features, including the abilities to: initiate sending emails, view compatible matches and reverse matches, conduct an advanced search, view last login times of other users, and send birthday cards.
For details about the cougar dating site, please visit http://www.OlderWomenDating.com.