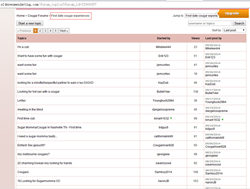 (PRWEB) October 28, 2014
OlderWomenDating.com, the world's premier dating site for older women dating younger men, has added a new feature to its site. It's called "First Date Experiences" – a new forum that offers advice and tips to help the younger man woo the older woman more effectively through the stories of other couples' first experiences. Conversational topics, etiquette and more are all presented with an unfiltered honesty.
Where it was once unusual, and younger women with older men the norm, in the past 10 years it has become much more common for younger men to date cougar women, so much so that in 2011, Webster's Dictionary added a new definition to the word "cougar" http://newsfeed.time.com/2011/08/26/merriam-webster-dictionary-adds-tweet-and-bromance-to-latest-edition. OlderWomenDating is the best cougar dating site for sophisticated cougar women and cub men who are looking to explore relationships with a significant age difference.
The New York Times wrote an in-depth article about the normalization of these relationships http://www.nytimes.com/2009/10/15/fashion/15women.html. Speculating that perhaps, "…economics is also a key factor. Both women and men, particularly as the wage gap has narrowed, are growing more comfortable with the possibility that she is the higher earner, sociologists say. And while she may not want to take a slacker under her wing, she is less likely to be focused on the status of her partner than women of previous generations."
Whether it's a young guy seeking his sugar mama, or a successful cougar seeking her ideal boy, OlderWomenDating has helped match thousands of men and women with their ideal relationship. Users can browse pictures, read profiles and get great advice from a community of like-minded people.
To learn more details or to sign up for a free membership, visit http://www.OlderWomenDating.com.