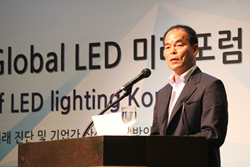 Seoul (PRWEB) October 10, 2014
Seoul Semiconductor (http://www.seoulsemicon.com), a global LED manufacturer, congratulates Shuji Nakamura, Professor at University of California, Santa Barbara, CA, USA, and a consultant to Seoul Semiconductor, on winning the 2014 Nobel Prize in Physics. Seoul Semiconductor is proud of the collaboration in research and development of LED technology with Mr. Nakamura, who is also known as the father of blue LED.
Shuji Nakamura and Seoul Semiconductor have been engaged in joint research and development for over 10 years. This collaboration extends to the LED R&D center at University of California, Santa Barbara (UCSB) where Seoul Semiconductor runs study abroad programs for research fellows.
Currently, Mr. Nakamura and Seoul Semiconductor are working on the development of Non-polar LED technology. This technology has been applied to the "nPola" LED product announced by Seoul Semiconductor in July of 2012.
Shuji Nakamura recently presented Acrich along with Non-polar as the future of LED technology at the Global LED Forum 2014 in Seoul, Korea. Acrich is one of Seoul Semiconductor's strategic products that operates directly off AC with a high power factor and low THD without a complex AC/DC converter.
Chung Hoon Lee, CEO of Seoul Semiconductor, congratulates Mr. Shuji Nakamura on winning the Nobel Prize in Physics and is honored to work with him as a scientific adviser. He added "Seoul Semiconductor will continue to work with Mr. Nakamura in the development of innovative market leading LED products like Acrich and nPola."
*nPola Technology
nPola" utililizes gallium nitride (GaN) substrates replacing sapphire or silicon carbide with Seoul Semiconductor's proprietary LED Technology for optimizing GaN epitaxial growth. The nPola technology minimizes defects in the active layer and allows for LED chip current densities 5 to 10 times greater than that of conventional chips consequently, leading to 5 to 10 times higher brightness from the same chip size.
*About Seoul Semiconductor
Seoul Semiconductor, Global LED Manufacturer, is the world's fourth largest LED supplier in 2013 according to IHS Technology Market Research Firm. Seoul Semiconductor holds more than 10,000 patents including the patents of its subsidiaries and cross licenses globally while offering a wide range of LED technology and production capacity in areas such as nPola, deep UV LEDs, "Acrich", the worlds first semiconductor light source that operates directly from both AC and DC power supplies, and "Acrich MJT - Multi-Junction Technology," a proprietary family of high-voltage LEDs. The company's broad product portfolio includes a wide array of package and device choices such as AC-driven LEDs, high-brightness LEDs, mid-power LEDs, side-view LEDs, through-hole type LED lamps, custom displays, and sensors.