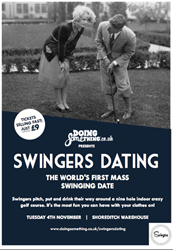 London (PRWEB UK) 13 October 2014
What do you think of Swinging on a first date?
Surely even London's most adventurous singletons might find the notion a tad spicy.
Never fear. Swingers Dating is a partnership between Swingers – the crazy-golf club and dating website DoingSomething.co.uk. It is taking place at Swingers in their 7000 square foot Shoreditch warehouse on November 4th. And there's NO requirement for anyone putting their car keys in a bowl.
Activity based dating site DoingSomething.co.uk has long known that a shared activity or experience is hands down the best way to get to know someone new. So when the Institute of Competitive Socializing was approached by DoingSomething.co.uk to do an indoor crazy-golf dating collaboration it was a match made in heaven.
The event is the first in a monthly collaboration between the two companies. The night tees off with singletons arriving and being paired off into mixed male and female groups to tackle the nine hole crazy golf course. Daters will enjoy the 1920's clubhouse atmosphere and a beverage while eyeing up their potential competition.
Once each group has negotiated its way round the twists and turns of the course and a winner has triumphed, it's back to the clubhouse to celebrate, commiserate and exchange tips.
As more and more Swingers complete the course, the club house takes on a party atmosphere where daters can strut their stuff - and plus fours - on the dance floor 'til 1am.
For anyone needing extra energy, Street food legends Pizza Pilgrims will be on hand.
Activities are a great way to assess a potential partner, warts and all. 'You can discover more about the person in an hour of play that a year of conversation' said Plato.
Competitive spirit brings out the inner child and if 'Fancy Swinging tonight?' isn't an original ice breaker we don't know what is. This is the place to find out if a prospective date has a sense of humour.
Swinging is the ideal date for adventurous singletons.
Details for Tickets
£18 for pairs £11 for singles.
Grab your Swingman or Swingwoman and get booking now.
Official ticketing partner designmynight.com.
Buy tickets: http://www.designmynight.com/london/whats-on/something-a-little-different-events/swingers-dating.
URL: http://www.doingsomething.co.uk/swingersdating.
For press tickets and information please contact fiona(at)doingsomething(dot)co(dot)uk.