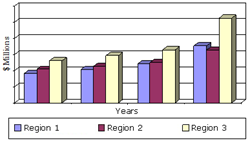 Global Market for Energy-Efficient Construction Technologies to Reach $60.2 Billion in 2019
Wellesley, Mass. (PRWEB) October 10, 2014
BCC Research (http://www.bccresearch.com) reveals in its new report, ENERGY-EFFICIENT TECHNOLOGIES FOR COMMERCIAL BUILDING CONSTRUCTION, the global market for energy-efficient technologies in commercial buildings is expected to grow to more than $60.2 billion by 2019, with a five-year compound annual growth rate (CAGR) of 8%. In regional terms, Asia, the fastest-moving area, is rising at a significant 9.8% CAGR.
Several key factors are currently influencing markets for commercial energy-efficient technologies at the regional and global scale, including underlying growth in emerging and transitioning economies, heightened interest in green buildings and green building certification, activity in corporate greening, and the desire to reduce energy consumption and costs. Changes in energy costs are also particularly important because cost increases create strong incentives to implement energy saving technologies.
Asia is by far and away the dominant region in the overall market. It is expected to reach $26.2 billion in 2019. Energy costs in Japan and other areas of eastern Asia have skyrocketed in recent years, driving strong interest in energy efficiency as building operators struggle with increasing utility bills.
North America, the second largest and fastest growing region, is forecast to grow to nearly $17.7 billion by 2019 with a 7.9% CAGR. Growth in this market is driven by the fact that natural gas markets in North America have plummeted in the wake of the natural gas boom. However, surging applications of energy-efficient technologies for commercial buildings have continued to grow in North America — particularly in the United States.
"Trends in new commercial building construction vary considerably from region to region," says BCC Research energy analyst Robert Eckard. "North American markets appear to be entering a moderate to strong growth phase for commercial building construction, which is helping to drive markets in that region. In contrast, markets in China have slowed in comparison to recent highs, and this softening is driving a slowdown in year-over-year market growth in that country."
ENERGY-EFFICIENT TECHNOLOGIES FOR COMMERCIAL BUILDING CONSTRUCTION provides an overview of the global market for single energy-efficient technologies in commercial buildings. It includes analyses of global market trends, with data from 2013, estimates for 2014, and projections of CAGRs through 2019.
Editors and reporters who wish to speak with the analyst should contact Steven Cumming at steven.cumming(at)bccresearch(dot)com.
About BCC Research
BCC Research publishes market research reports that make organizations worldwide more profitable with intelligence that drives smart business decisions. These reports cover today's major industrial and technology sectors, including emerging markets. For more than 40 years, we have helped customers identify new market opportunities with accurate and reliable data and insight, including market sizing, forecasting, industry overviews, and identification of significant trends and key competitors. We partner with analysts who are experts in specific areas of industry and technology, providing unbiased measurements and assessments of global markets. Our clients include the top companies in industries around the world as well as universities, business schools, start-ups, consulting firms and investment companies. BCC Research is a unit of Eli Research LLC. Visit our website at http://www.bccresearch.com. Contact us: (+1) 781-489-7301 (U.S. Eastern Time), or email information(at)bccresearch(dot)com.
Data and analysis extracted from this press release must be accompanied by a statement identifying BCC Research LLC, 49-2 Walnut Park, Wellesley, MA 02481, Telephone: (+1) 781-489-7301; Email: editor(at)bccresearch(dot)com as the source and publisher. Thank you.