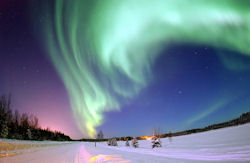 A Northern Lights holiday deserves careful consideration and research, both for the benefit of the destination and to give the tourist a more memorable experience
(PRWEB UK) 10 October 2014
The most commonly seen colour in the Northern Lights is green, fitting then that leading ethical online travel agent responsibletravel.com suggests that the best way to see the Aurora Borealis this winter is by taking the time to choose a responsible holiday, one which protects the Arctic environment and helps preserve local heritage. Responsibletravel.com believes these authentic experiences give visitors the opportunity to take home lasting memories of more than just the lights, as they offer a deeper connection to the people and places they will meet along the way.
Responsibletravel.com managing director, Justin Francis, says "Although the Northern Lights are an ancient phenomenon, the mass marketing of them is still relatively new.
"Seeing the Northern Lights has become one of those horribly-named 'bucket list' things to do, and sometimes trips are bought impulsively as a result.
"However, it is a holiday which will take tourists to some of the world's most fragile ecosystems, and into contact with indigenous cultures which need preserving. As such a Northern Lights holiday deserves careful consideration and research, both for the benefit of the destination, and to give the tourist a more memorable holiday experience".
Taken from their 2 minute guide to Northern Lights watching – http://www.responsibletravel.com/holidays/northern-lights-watching, responsibletravel.com offers 5 tips which travellers considering a once-in-a-lifetime trip to see the Northern Lights should consider before booking, to help them towards a more authentic, responsible and ultimately more memorable winter holiday.

Don't set expectations too high. Even on clear days there is no guarantee the lights will appear, so rather than planning everything around the lights travellers should plan a rewarding holiday in general, with plenty of daytime activities. Seeing the Northern Lights is then the icing on a very delicious cake.
Connect with the Sámi. The indigenous inhabitants of northern Norway, Finland, Sweden and Russia are becoming more and more dependent on tourism and can offer tourists fascinating insights into traditional life and culture in the Arctic Circle.
Consider snow shoeing, cross-country skiing and reindeer sleigh rides as an alternative to snowmobile safaris. Snowmobiles may be vital to everyday life, but snow-shoes, skis and sleighs are a much less polluting, peaceful way to appreciate the frozen wilderness.
Avoid mid-late December if you're not after the man in red. Families flock north for the festive season, so travellers wanting more seclusion and less Santa should travel outside this time.
Book early and research options carefully. The winter of 2014/15 is set to be one of the best times for Northern Lights sightings for the coming decade. Research carefully to ensure a responsible trip, and as the best accommodations and activities book up quickly, plan early to not miss out.
A wide selection of responsible Northern Lights watching holidays can be found at http://www.responsibletravel.com/holidays/northern-lights-watching.
Notes to editors:
About responsibletravel.com
responsibletravel.com is the world's leading online travel agent for responsible holidays and a pioneer of responsible tourism. Started in 2001 with backing from Dame Anita Roddick of The Body Shop the site's mantra is 'travel like a local'. It sells holidays that are about more than just a brief stay somewhere - instead it is travel that offers a real connection with the people, the landscape, the culture, the food and the environment. It offers over 7,500 responsible holidays from over 3,000 holiday providers which all support communities and conservation. Handpicked local specialists provide authentic holidays for those seeking adventure, culture, or luxury whether travelling with family, joining a small group or looking for tailor-made experiences worldwide, in destinations as diverse as China - http://www.responsibletravel.com/holidays/china, Malawi - http://www.responsibletravel.com/holidays/malawi and Indonesia - http://www.responsibletravel.com/holidays/indonesia
In addition responsibletravel.com:

founded and organises The World Responsible Tourism Awards, celebrating 11 years at World Travel Market this year.
campaigns for positive change in the travel and tourism industry.
CEO Justin Francis has been included in Courvoisiers The Future 500, Thames and Hudsons 60 Innovators Shaping Our Creative Future and taken his place on the Advisory Board of The International Centre for Responsible Tourism at Manchester Metropolitan University.
The company is based in Brighton's North Laine district, England.
Contact:
Sarah Bareham
press(at)responsibletravel(dot)com
01273 829 269 (UK)